Young Llama Thoughts
Adventurous

Christian Friendly

Easy Reading

Humerous

Youth Appropriate
Overall
4.6 Llamas










Review
This is book 8 in The Series of Unfortunate Events and I LOVE IT!!!! This entire series is amazing and very funny; written in a sarcastic way that just gets better with every book!!!!!!!!!!!!
The books are about these 3 siblings who's parents died and now they are hiding form the Evil Count Olaf who is trying to steal away their family fortune. They windup in a hospital looking for any clue about their parents death, the mysterious VDF and Count Olaf's mysterious past.
The book was very good, but there was mention of murder, heads almost being cut off, kidnappings, and various other horrible things. (Nothing is described in the books, just mentioned.) And like all the other books, this book has no happy ending and is written very sarcastically!!!! Personally I love the sarcasm!
Over all, I love this series and can not wait to read the rest!!!! This is a great book for girls and boys of all ages; and I hope you have an Book-Tastic day! -The Young Llama Reader.
Pros
A very good series with no happy endings!
Good for kids and teens!!!!
Cons
Some violence, kidnapping and mention of cutting peoples heads off.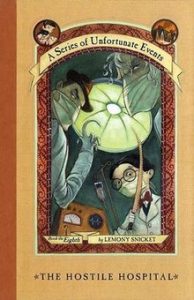 The Baudelaires need a safe place to stay—somewhere far away from terrible villains and local police. A quiet refuge where misfortune never visits. Might Heimlich Hospital be just the place?
In Lemony Snicket's eighth ghastly installment in A Series of Unfortunate Events, I'm sorry to say that the Baudelaire orphans will spend time in a hospital where they risk encountering a misleading newspaper headline, unnecessary surgery, an intercom system, anesthesia, heart-shaped balloons, and some very startling news about a fire.
Was this post helpful?
Let us know if you liked the post. That's the only way we can improve.