Young Llama Thoughts
Adventurous

Christian Friendly

Easy Reading

Humerous

Youth Appropriate
Overall
4 Llamas










Review
I love this book. It is beautifully written, told in an exciting way, and tells a story of the real world through the eyes of a 11 year old boy. I LOVE IT! (This book is one I am suggesting to 10 and up. However, there is some violence, cursing and racist comments.)
This book is about a young boy who stutters. And he feels like because he is only defined by his stutter, but when he takes over his friends paper job for the month he starts to learn there is more to him that his stutter. Maybe what he says is more important than how he says it…
This book is amazing. I can't even describe how much this book means to me! Reading this book and falling in love with the characters! Falling love with the story!! I just can't get enough!!! The story is well written. The plot line is amazing! And I just love it!
However, there is violence in this book… Mention of people getting beat up. Choking people, threatening to kill people, stabbings and such. Now none of this is overly described, but it is in there. There is also some curse words mentioned. And a few comments on people's coloring… But remember, this book is about the real world! All of this is in the world; and this book shows the broken parts of the world, as well as the beautiful parts.
Over all, I do suggest this book to kids and teens. All the stuff I mentioned is in there, but it is also in the world. And this book is just written to beautifully to not be shared with the next generation!!!! Read it, love it and share it! -The Young Llama Reader.
Pros
An amazing book that shows the real world.
Beautifully written.
A good read for teens.
Cons
Some violence and cursing.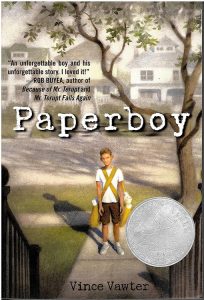 This Newbery Honor winner is perfect for fans of To Kill a Mockingbird, The King's Speech, and The Help. A boy who stutters comes of age in the segregated South, during the summer that changes his life.
Little Man throws the meanest fastball in town. But talking is a whole different ball game. He can barely say a word without stuttering—not even his own name. So when he takes over his best friend's paper route for the month of July, he's not exactly looking forward to interacting with the customers. But it's the neighborhood junkman, a bully and thief, who stirs up real trouble in Little Man's life.
Was this post helpful?
Let us know if you liked the post. That's the only way we can improve.