Young Llama Thoughts
Adventurous

Christian Friendly

Easy Reading

Humerous

Youth Appropriate
Overall
4 Llamas










Review
So per-usual, I read book 2 before book 1… But, I did review book 1 before book 2! So that's good at least!!! Anyways, I LOVED this book! It was action-filled, a little bit of romance, and was just beautiful! (Though this is a 16 and up book, due to some mention of a girls clothing choices…)
This book is about a boy, Victor. He is no longer a paperboy, now he's a copyboy. And when his good friend passes away and asks a very specific request from Vic. Victor agrees to take Mr. Spiro's ashes to New Orleans, to find the place where the river meets the sea.
I love this book! It was so much fun to read! There's action, romance, awesomeness! However, there is some curses. And some violence due to the hurricane… To be honest, those parts I didn't really care about. The parts that I was like… ehhhh… Were when Victor meets this girl who is kind-of crude. She is a fisherman daughter, she's lived in New Orleans all her life, so her manners are a little bit different. So there is mention of her bra once. (She rolled in stinging grass and had to brush it off her back) She wears very short shorts. And she has this guy who really likes her, but she doesn't like him. And she says all he wanted was pants. (Codewords.) Other than that, the book was very good!
Over all, I do suggest this book! Yes there is some crude language, but sadly this is our world now-a-days. So, I still suggest this book! (But 16 and up.) I hope you all have a wonderful day!!!! -The Young Llama Reader.
Pros
A very good book for boys!
Interesting, funny, engaging and awesome!
Cons
Some violence, hurricanes and people getting hurt.
Mention of girls clothing.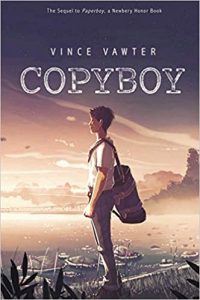 The sequel to the Newbery Honor-winning novel Paperboy and a Fall 2018 Junior Library Guild selection. Victor Vollmer isn't a paperboy anymore. He's a copyboy now, but his duties at the newspaper get interrupted by a last request from Mr. Spiro, the old man who became Victor's mentor and helped him take on his stutter in the beloved novel Paperboy, a Newbery Honor Book. Victor takes off on a journey that sends him hundreds of miles from home toward the teeth of a gathering storm. Confronted by an unfamiliar and threatening world, he meets a girl who is strong, smart, and bold like no one he's known before, and together they venture to the place where river meets sea. When they wind up racing to evade a hurricane, Victor finds out what the fates have in store for him.
Was this post helpful?
Let us know if you liked the post. That's the only way we can improve.