Young Llama Thoughts
Adventurous

Christian Friendly

Easy Reading

Humerous

Youth Appropriate
Overall
4.6 Llamas










Review
New series, New Series, NEW SERIES!!!!!! AHHHHHH!!!! I am sooooo excited for a new sci-fi series that I can hardly contain myself! Sci-fi is one of the hardest series to find clean books in, but I found one!!!!! (Or 3!)
This series is a Christian series, in a sci-fi world!!!!!!! It is about 2 separate classes, the Elite and the Drudge. (aka the slaves) When a young man form the royal family meets a lowly Drudge mechanic, their worlds are slowly rocked. And when he starts finding out more and more about the injustice of the Drudge class, he starts finding more and more secrets that could change his life forever.
I LOVE this book! It is clean, fun, exciting, action packed, and perfect for boys! There is some violence. (It's sci-fi… what did you expect?) Guns, sci-fi knifes, ships blowing up, dangerous secrets that could kill you, poison, and more! To be honest though, I would just call it action, not violence.
Anyways, this book is also Christian-friendly!!!!!!!!! Expect, sci-fi version. So any Christians looking for action packed sci-fi?
Over all, what an amazing book for teens!!!! This is a book I totally suggest and I hope you have a nice day!!!!!!!! -The Young Llama Reader.
Pros
New Sci-fi series!!!!!
PERFECT for boys!
Adventure, action, awesomeness!!!!!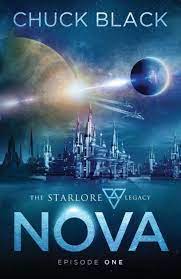 A mighty empire…a lowly slave…a galaxy to save. Will a hero rise? Nova chronicles the early years of the Aurora Galaxy after the great war between two immortal races known as the Malakians and the Torians. The despot, Zari Treville, is leading the Torians on a campaign to rule the galaxy, but Supreme Chancellor Ell Yon, leader of the Malakians, stands in his way. Both races wield technology far beyond anything the human race has ever seen. Young Daeson Starlore is born of royal blood on the planet of Jypton where the Rayleans (the Drudge class) serve the ruling classes of Jyptonians (the Colloquial and the Elite classes). As a young man Daeson is living his dream piloting his Starcraft at the academy and is on track to graduate at the top of his class. A chance encounter with a lowly Starcraft mechanic changes everything and the life and world Daeson once thought he knew changes forever. Desperate for the truth, Daeson embarks on a galactic journey that will either kill him or thrust him into a life of terrifying adventure. Time is short…will he survive…will he rise?
Was this post helpful?
Let us know if you liked the post. That's the only way we can improve.