Young Llama Thoughts
Adventurous

Christian Friendly

Easy Reading

Humerous

Youth Appropriate
Overall
3.9 Llamas










Review
So, I think we all know by now that I am a Star Wars fan. But you might not know that my fav movie is Rogue One! And Jyn Erso was my favorite character for a very long time!!! (Of course then the Mandalorian came out and I know love Cara Dune… But that's a different story!) So of course I loved Jyn Erso's backstory!?!
This book is set before the Star Wars Rogue One movie and takes you through Jyn entire life up to the movie. Split between her time in the Wobani prison and her growing up years, you get to see a whole new side of her story.
I really love this book! The action, adventure and life of Jyn is sooooooooo interesting to read! However, there are some 'cons'… With every Star Wars book, there is violence. Knifes, guns, explosives, people dying, one suicide, multiple scenes where someone gets beat up and more. But it isn't like creepy violence. Just lightly explained and that's it. There may be some cussing as well. With the newer Star Wars books sadly that is very likely to be in them. And there is some kissing in this book. Mostly just says they kissed, but there is a point when it suggest they did more. But nothing is mentioned or described. It's just a weird sentence.
Over all, this is actually a very clean book for teens and one I recommend. And now… I need to get back to my college finals… "Bleh!" Have a Very, Merry, not so Hairy, almost Christmas! -The Young Llama Reader.
Pros
A book that I love to read and re-read!
Good for teens!
Pretty clean with only a few cons.
Cons
Violence…
Some kissing and mention of more.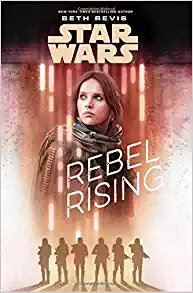 New York Times bestselling author Beth Revis brings to life the early adventures and heartbreaks of the heroine, Jyn Erso.
When Jyn Erso was five years old, her mother was murdered and her father taken from her to serve the Empire. But despite the loss of her parents she is not completely alone―Saw Gerrera, a man willing to go to any extremes necessary in order to resist Imperial tyranny, takes her in as his own, and gives her not only a home but all the abilities and resources she needs to becomea rebel herself.
Jyn dedicates herself to the cause―and the man. But fighting alongside Saw and his people brings with it danger and the question of just how far Jyn is willing to go as one of Saw's soldiers. When she faces an unthinkable betrayal that shatters her world, Jyn will have to pull the pieces of herself back together and figure out what she truly believes in… and who she can really trust.
Was this post helpful?
Let us know if you liked the post. That's the only way we can improve.