Young Llama Thoughts
Adventurous

Christian Friendly

Easy Reading

Humerous

Youth Appropriate
Overall
4.4 Llamas










Review
This is the 3rd book in my Summer Llama Book List 2020! And it is perfect for young girls who love a magical adventure!!!! (Or teens like me who will read almost any age book!!!!!!)
The book is the 2nd book is the More Then a Princess series, and it is sooooo cute!!!! It is about a girl who is part fairy and part pedrasi, and feels like she has a hard time fitting in. But when her family is moving back to the human world, she feels like there is something or someone that is trying to destroy everything she loves!
It is a really good, magical book for girls 6 to 12!!! I suggest a lot of E. D. Baker's books. They are super clean, with really fun, non-creepy magic that is perfect for young girls to read!!!! The only thing I would warn you about, is some bad guys get eaten by a snake-thing. Nothing was described, but they didn't hang around long…
Over all, I totally suggest this book right now!!!! If you are looking for a magical, kid-friendly, extremely clean book for a young girl!…I think I just found it! Have a great day!!!!! -The Young Llama Reader.
Pros
AMAZING CUTE STORY FOR GIRLS!!!!
Very clean and magical!!!!
A very good book for 6 to 12 girls!
Cons
Some bad guys get eaten by a snake…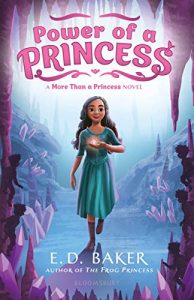 Aislin is more than just a princess. Born to a fairy king and pedrasi queen, she's strong, smart, and brave, with magical gifts she's only beginning to discover. Aislin has spent her whole life keeping her family's gifts hidden from the non-magic folk who surround her kingdom, and is shocked to find out the humans knew about these enchantments all along. But when the fairies decide to move back onto human territory, it soon becomes clear that some will not be happy about this change.
As she sets out to restore the balance, Aislin chooses a surprising group of young women to join her – girls she knows are brave and loyal, but who don't have the qualities of typical guards or princess confidantes. Things only get more complicated when an old foe appears, surely up to no good. The princess knows she has the power and ingenuity to stand up for herself and her kingdom, especially with her friends by her side – will that be enough to set things right?
E. D. Baker is the author of many beloved books for young readers, including The Frog Princess, which was the inspiration for Disney's The Princess and the Frog. A classic and original fairy tale that celebrates goodness in all shapes and sizes, More than a Princess will resonate with readers who love magic, suspense, girl power, and adventure.
Was this post helpful?
Let us know if you liked the post. That's the only way we can improve.