Young Llama Thoughts
Adventurous

Christian Friendly

Easy Reading

Humerous

Youth Appropriate
Overall
3.3 Llamas










Review
This book was sent to me by Baker Book House for my review, and it was ok. But I just felt like I had read the book before. It wasn't really interesting or new to me.
This book is about a young women trying to move on form her past when an old friend sends her a warning moments before someone tries to kill him. Scared for her life she heads home hoping to reconnect some of her past to find the cyberattack villain. Teaming up with a DSS special agent, will she be able to stop the person hunting her or will all systems crash again?…
So, the story line was ok. The romance was good and clean, the violence wasn't graphic, (though people do drop dead a lot) but I just wasn't interested in the story. It felt like I already knew what was coming next and I didn't really need the book in my life.
The 2nd half of the book was much more engaging. I felt like the 1st half was a bit boring. I'm not saying that the book isn't good, I just didn't enjoy it personally.
Over all, the book was ok, the series ended well and I think this book is very clean for girls 16 and up. Adios! -The Young Llama Reader.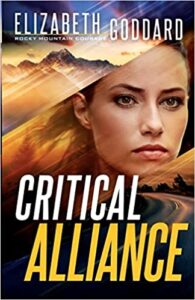 Mackenzie Hanson's special set of skills opened the door to a successful career as a professor of cybersecurity at a Michigan university, allowing her to put her criminal past behind her. But when a long-ago partner in crime delivers a cryptic message about her father's tech company being under cyberattack, she heads for Montana to secure exposed assets, close security breaches, and hopefully save lives.
Diplomatic Security Services special agent Alex Knight is back home in Montana to decompress from a mission gone wrong. But even as he's trying to relax, he's drawn into another mystery, complete with suspicious deaths, lethal threats, and whispers of espionage that all have one thing in common–a beautiful cybersecurity expert with a dark past.
When the situation turns deadly, Alex and Mackenzie will have to work together to find the answers they need–before someone silences Mackenzie for good.
USA Today bestselling author Elizabeth Goddard weaves a tangled web of nail-biting suspense and heart-stopping romance in this fast-paced conclusion to her Rocky Mountain Courage series.
Was this post helpful?
Let us know if you liked the post. That's the only way we can improve.