Young Llama Thoughts
Adventurous

Christian Friendly

Easy Reading

Humerous

Youth Appropriate
Overall
4.6 Llamas










Review
I absolutely adore the Chosen. The TV series is AMAZING, and then I found out that there is a book?!?!?!?!?! Well, I immediately wanted it. And I LOVED IT!
This book is based off the 1st season of the new TV series, The Chosen. The book is about all the different people Jesus touched through His ministry. And it is beautiful……
I LOVE IT! And I totally suggest it. It is written fast though. Not really like a normal book, more like a dialog for a TV series. 😉 But it is still sooooooooooooo good. However, there is still talk about the Red Quarter, some violence barely any, and… no I think that's it!
Over all,… YYYYEEEEEAAAAAHHHHHH!!!!!! This is a MUST READ! I totally suggest this book to any fan of the Chosen and I hope you all have a fantastic rest of your day!!!! (The Chosen season 2 episode 4 coming out tonight!!!!!!!!!) -The Young Llama Reader.
Pros
AMAZING!!!!!
A book that every fan of the Chosen needs to read!!!!!!!
READ IT NOW!
Cons
Mention of stuff in the Red Quarter…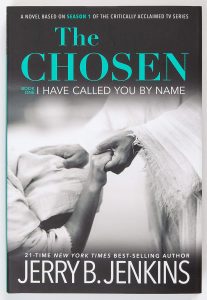 Based on the acclaimed video series The Chosen, the most amazing story ever told–the life of Jesus– gets a fresh, new telling from "New York Times bestselling author Jerry B. Jenkins. What was it like to encounter Jesus face-to-face? How would he have made you feel, changed your way of thinking about God? Would he have turned your world upside down? Journey to Galilee in the first century. See the difference he made in the lives of those he called to follow him and how they were forever transformed. Experience the life and power of the perfect Son of God as never before through the eyes of everyday people just like you.
SPECIAL FEATURES:
The official novel based on Season 1 of the immensely popular TV series, which has been seen in every country in the world, with over 85 million views
The latest fiction from Jerry Jenkins, perhaps the bestselling Christian novelist of recent times
Jacketed hardcover with spot gloss
Was this post helpful?
Let us know if you liked the post. That's the only way we can improve.