Young Llama Thoughts
Adventurous

Christian Friendly

Easy Reading

Humerous

Youth Appropriate
Overall
3.1 Llamas










Review
"Sniff…" Ok, I would just like to say, this book was beautiful, hearbreaking and breathtaking! I could NOT put it down!!!!!! (Even through the super sad parts I still loved it!!!!!!!!!!!)
The book is about this kid who's father (who is a jerk) moves them to this town in the middle of no where to get a new job. And this kid is trying to figure out how to fit in at school, survive his family and help the library recollect pieces of this very special book filled with art of birds.
The book is soooooo good; however there is mention of abuse in it. His father beats both him and his brother. (Thankfully it isn't described, just mentioned.) And his father forced him to get a tattoo at the age of 12… Which is really mean… But there is no blood or anything inappropriate.
Over all, this is a great book for 16 and up teens!!!! (Though ask your parents first, due to the violence and abuse.) Have an amazing day!!!!! -The Young Llama Reader.
Pros
This is such a beautiful story for teens, and ("SNIFF!") just so heartwarming too!!!!!!
Cons
Mention of broken family's, hitting kids and cancer…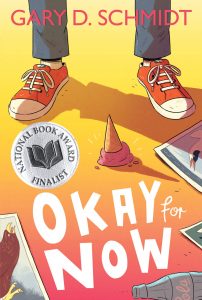 In this companion novel to The Wednesday Wars, Doug struggles to be more than the "skinny thug" that some people think him to be. He finds an unlikely ally in Lil Spicer, who gives him the strength to endure an abusive father, the suspicions of a town, and the return of his oldest brother, forever scarred, from Vietnam. Schmidt expertly weaves multiple themes of loss and recovery in a story teeming with distinctive, unusual characters and invaluable lessons about love, creativity, and survival.
Was this post helpful?
Let us know if you liked the post. That's the only way we can improve.