Adventurous

Christian Friendly

Easy Reading

Humerous

Youth Appropriate
Overall
4.8 Llamas










Review
I don't even remember when I got this book, it was quite awhile ago. But that doesn't mean I love it any less!!!! This book is probably one of the best books I have read. I have re-read this book soooooooo much, that the spine is barely holding it together… Opps! 🙂
The book is about a Remarkable town, and everyone in the town is Remarkable. Like there's this kid who is a math whiz, or this lady who is an amazing architect. Now, you were probably thinking they would be magical… Their not. There is no magic in the book… except for the sea monster living in the towns lake… That's probably magical.
Anyways, the book is focused on a girl who is Un-remarkable…  Sad!!! She has no talents no skills, and is the only person in the whole town who is completely normal. But when pirates come looking for trouble, weird weather starts to stir and a musical bell tower that is becoming a problem. Maybe the most ordinary person in town will do the extraordinary thing!
Over all, this book is REALLY good for kids and teens. I seriously love this book soooooooooooooooooooooo much!!!!!!!!!!!!!!!!!!!!!!!! I hope you will enjoy it too!!! Love y'all!!! -The Young Llama Reader.
Pros
This is such a cool, funny and enjoyable book for ANYONE!!!
Very kid-friendly!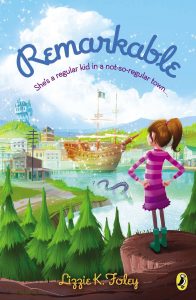 Everyone in Remarkable is remarkable. Everyone except Jane, that is. While the rest of the town is busy being talented, gifted, or just plain extraordinary, she's never been anything but ordinary. Then Jane finds herself in school with the mischievous Grimlet twins, and her life suddenly gets a whole lot more interesting. And when a strange pirate captain appears in town, setting of a series of adventures that put the whole town in danger, it's up to Jane to save the day. Along the way, she might just find that she can be pretty remarkable after all.
Was this post helpful?
Let us know if you liked the post. That's the only way we can improve.