Young Llama Thoughts
Adventurous

Christian Friendly

Easy Reading

Humerous

Youth Appropriate
Overall
4 Llamas










Review
This book was sent to me by Baker Book House for my honest review. And honestly… I LOVED IT! The action, the mystery, the little bit of romance! This is another amazing book by Baker Book House.
The book's about this detective, after finishing her first case she is ready to jump into another. But when the case starts leading to cyber hacking. And her personal life is under attack. Will she be able to stop the criminal before the games over?
The book was very good, and extremely interesting. But there is a LOT of talk about computers and gaming, hacking, and such… And I understood next to nothing sooo… It was a bit hard to read. There is some mention about speedos and bathing suits, nothing described. And some violence, murder and person shooting games.
Over all, this was a very good book, and I totally suggest it! But the only thing I saw as a "con" was the fact that I understood none of the tecky stuff. Other that that, fabulous book!!!! -The Young Llama Reader.
Pros
A very good book!!!!
Christian-friendly!
Interesting read!!!!!!!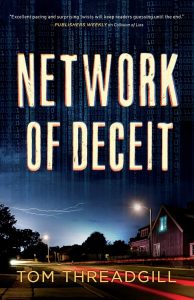 After her rescue of nearly fifty kidnapped children made international headlines, Amara Alvarez gets what she's worked for: a transfer to San Antonio's Homicide Division. Reality sets in quickly, though, as her first case, the suspicious death of a teenager at a crowded local water park, brings chaos to her personal life.
As the investigation moves forward and she increases the pressure on the suspects, Amara finds herself under attack by cybercriminals. Her every move is being potentially watched online, and she's forced to resort to unconventional methods to find the killer. With few leads, she fights to keep her first murder investigation from ending up in the cold case files.
Tom Threadgill is back with another riveting page-turner featuring the detective who is willing to put everything on the line to see that justice is served and lives are protected.
Was this post helpful?
Let us know if you liked the post. That's the only way we can improve.