Young Llama Thoughts
Adventurous

Christian Friendly

Easy Reading

Humerous

Youth Appropriate
Overall
5 Llamas










Review
This is the 4th book on my Summer Llama Book List 2020, and may I just tell you this book is AMAZING!!!!! I kind-of didn't want to read it at first, (Real stories aren't my favorite thing to read.) but as the book kept going you just kept reading these amazing miracles this man had seen in his life time!!!! And then I just couldn't put it down.
This book is about George Muller, a famous preacher, missionary, Christian and he ran at one time 5 DIFFERENT ORPHANAGES!!!! He gave up EVERYTHING in his life to serve the Lord and the Orphans of Bristol…And it's just like, WOW! This book will change your life if you read it!
I totally suggest this book to any age! It is sooooooooooo amazing to read about, and it is such a great book for any Christian to read as well! My only warning is that there is some death in the book; ya know people die….That's literary it…. Some people die from illness and age… That's it. Come people, how perfect is this book!?!?!
Over all, A MUST READ! Buy it! Read it! And suggest it to someone else!!!!!! Cause this book is just sooooooooo amazing and life-changing to read!!!!!!!!! I hope you all have a great day, more books coming soon! -The Young Llama Reader.
Pros
An amazing example of REAL Christian Faith!!!
Perfect for any age!!!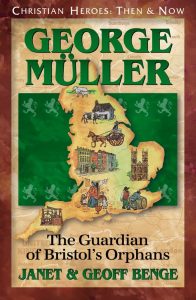 George Muller stared at the beggar girl. She was no older than five and was piggybacking her little brother. Her mother had died in the cholera epidemic sweeping England. Her father had never returned from the mines. Standing in the muddy street, this little girl gave a face to Bristol's countless orphans.
With scarcely enough food or money for his own family, George Muller opened his heart and home. Sustained by God's provision, the Muller house "Breakfast Club" of thirty orphans grew to five large houses that ultimately over ten thousand children would call home.
George Muller trusted God with a depth rarely seen. His faith and generosity set a standard for Christians of all generations.
Was this post helpful?
Let us know if you liked the post. That's the only way we can improve.