Young Llama Thoughts
Adventurous

Christian Friendly

Easy Reading

Humerous

Youth Appropriate
Overall
3.9 Llamas










Review
This book was sent to me from Baker Book House for my honest review. And I did really enjoy it!!!!! It was funny, adventurous, interesting and plot twisting!!!!!!! (Totally a book I suggest to young women!!!! But 15 and up, there is some mention of adult things.)
This book is about a girl who has heard all of her life about her mothers homeland, Ireland. When her mother passes, she decides to take a chance to go teach a school in her mothers home town! But when she arrives, she isn't as welcome as she thought she would be. Is there more to her mother's stories than meets the eye?
The book was extremely good! But there is mention of a women doing scandalous things. And a man does try to force himself on a women. Not to much described, but due too that this isn't really a kids or teens book. There is also so Irish traditions and superstitions that are strange. (Nothing creepy just people being extra crazy.)
Over all, this is a great book for girls and women 15 and up! And I very much would love to read another book by this author!!!! -The Young Llama Reader.
Pros
A very good book for girls 15 and up.
Christian-friendly!
Cons
NOT a kids book.
Mention of some adult stuff…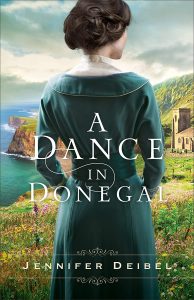 All of her life, Irish-American Moira Doherty has relished her mother's descriptions of Ireland. When her mother dies unexpectedly in the summer of 1920, Moira decides to fulfill her mother's wish that she become the teacher in Ballymann, her home village in Donegal, Ireland.
After an arduous voyage, Moira arrives to a new home and a new job in an ancient country. Though a few locals offer a warm welcome, others are distanced by superstition and suspicion. Rumors about Moira's mother are unspoken in her presence but threaten to derail everything she's journeyed to Ballymann to do. Moira must rely on the kindness of a handful of friends–and the strength of Sean, an unsettlingly handsome thatcher who keeps popping up unannounced–as she seeks to navigate a life she'd never dreamed of . . . but perhaps was meant to live.
Jennifer Deibel's debut novel delights the senses, bringing to life the sights, sounds, smells, and language of a lush country and a colorful people. Historical romance fans will embrace her with open arms.
Was this post helpful?
Let us know if you liked the post. That's the only way we can improve.