Young Llama Thoughts
Adventurous

Christian Friendly

Easy Reading

Humerous

Youth Appropriate
Overall
4.1 Llamas










Review
This is the 3rd book in the Wingfeather Saga, and I really like it! These books are FILLED with adventure, action, and are considered Christian-friendly. (I do believe they are Christian-friendly. They mention The Maker and how He made everything, and how He is the one that the kings of the land look to. But there is weird magic that isn't magic in the book as well.)
This book is about the 3 siblings traveling to their mothers old home. However, they are still in danger with Gnag the Nameless still looking for them, Tink's new "transformation", and the dragons after someone; they aren't sure what to do now…
I really enjoyed the book! It was fun, exciting and very clean. BUT. There are monsters in the book who harm people. A factory that enslaves children. People being turned into Fangs. And lots of violence. Weather swords and bows, or teeth and claws… There is blood or mention of people or Fangs dying. (This book is kid-friendly, but there is violence and monsters soooooo… 8 and up!)
Over all, a very enjoyable series that I TOTALLY suggest. If you are ok with monsters and the book being kind-of dark….. Have a great day! -The Young Llama Reader.
Pros
A Christian-friendly/Kid-friendly book!
Ages 8 and up.
Good for both boys and girls!
Cons
Lots of violence, and monsters…
Some weird "not" magic stuff?…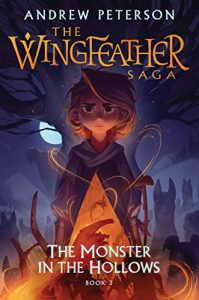 Things are about to go from bad to wolf in the howlingly entertaining third book of the Wingfeather Saga.
Janner, Tink, and Leeli Igiby, the Lost Jewels of Anniera, are hiding from Gnag the Nameless in the Green Hollows, one of the few places in the land of Aerwiar not overrun by the Fangs of Dang. But there's a big problem. Janner's little brother–heir to the throne of Anniera–has grown a tail. And gray fur. Not to mention two pointed ears and long, dangerous fangs. To the suspicious folk of the Green Hollows, he looks like a monster.
But Janner knows better. His brother isn't as scary as he looks. He's perfectly harmless. Isn't he?
Full of characters rich in heart, smarts, and courage, The Monster in the Hollows is a tale children of all ages will cherish, families can read aloud, and readers' groups are sure to enjoy discussing for its many layers of meaning. Extra features include new interior illustrations from Joe Sutphin, funny footnotes, a map of the fantastical world, inventive appendices, and fanciful line art in the tradition of the original Frank L. Baum Wizard of Oz storybooks.
Was this post helpful?
Let us know if you liked the post. That's the only way we can improve.