Young Llama Thoughts
Adventurous

Christian Friendly

Easy Reading

Humerous

Youth Appropriate
Overall
4.4 Llamas










Review
Ok, I love this book. It's clean, kid-friendly and includes 2 of my favorite things to read about. Football, and ballet! (Yeah, I know I'm weird… But I love reading about sports, both on the stage and on the field!)
The book is about a girl who loves ballet, but her mom remarries and they have to move away form her friends, ballet studio and her LIFE! Suddenly she is in Texas, were the only thing people care about is football. So she has to adjust to a whole new way of living with her new father and football famous brother.
I really enjoyed this book! It is a great book for little girls and older girls! And it is completely clean! There is mention of tight pants that men wear for ballet. (Only mentioned, never described) And…Nope that's it! See, very clean!
Over all, a great book for girls and teens! And I would say young girls too. (8 and up?) I hope you all have a nice day! -The Young Llama Reader.
Pros
An AMAZING book for girls!
Very clean and interesting to read!
Love, Love, LOVE!
Cons
Hmmm… some mention of selfishness?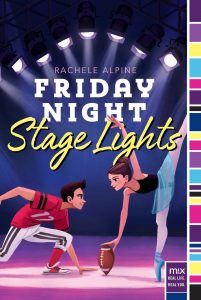 Brooklyn Gartner eats, sleeps, and breathes ballet. But after her mom gets remarried and moves them to Texas, everything changes. Thanks to her star football player stepbrother, her family is football obsessed. And thanks to a new conditioning program, the middle school football team starts to take classes at her dance studio—the only place Brooklyn felt like she belonged.
She has a chance to escape if she can get into her dream high school, The Texas School of the Arts, where she'll be able to pursue her passion for dance. Brooklyn just has to get through the big All-City showcase first, where a ton of scouts will be there, including one from TSOTA.
But when Brooklyn's dance partner gets injured, she has to turn to an unexpected ally—Logan, a boy on the middle school football team—to help her get through the showcase. With some fancy footwork, teamwork and a little understanding, can Brooklyn make her mark, and dance her way onto a bigger stage?
Was this post helpful?
Let us know if you liked the post. That's the only way we can improve.