Young Llama Thoughts
Adventurous

Christian Friendly

Easy Reading

Humerous

Youth Appropriate
Overall
4.6 Llamas










Review
So sometimes on YoungLlama I do reposts. Old book and reviews get redos! And this book is one of my favorites and it deserves to be appreciated. I read this series soooooo many times as a kid. It has humor, adventure, dragons and crazy vikings! What's not to love?!?
This series is what inspired the How to Train Your Dragon movies. However, these 12 books are COMPLETELY different. This book is about a small, well below average viking boy who is training his dragon to become part of his fathers tribe. But to do so he will have to get his tiny, selfish dragon to listen to him, survive the trails of becoming a viking, try not to die, hope none of the other vikings kill him and defeat a dragon the size of 3 planes put together… No pressure right?!?
I loved these books! I remember borrowing them from one of my friends when I was 10 and reading them over and over again. They are so funny, filled with adventure, selfish dragons and a whole lot of awesomeness! Now these vikings are obviously violent, so there are swords, axes, spears and such. People die, but their deaths are never really mentioned other than "Most of them survived". Dragons do bite people, and each other and get killed in the book (I think they die more than the people) and there is some mention of dragons bodies after their deaths.
My only complaint with this book is the art. It does not live up to my standards. I am used to the art in books like, Map to Everywhere and A Hero's Guide to Saving their Kingdom, so I forgot how scribbley the art is in this series. (I personally just like clean lines and clear drawings.) Nothing is "wrong" with the art, I just don't like it and thought I would tell you about it. (This is MY review) The only picture that a kid might be horrified by is one guys read-end flying through the air after a dragon attacked him. Gross but not inappropriate.
Over all, I still love this series and I do suggest it to boys and girls who love dragons, adventure and crazy vikings! I also totally suggest the movies even though the only thing they have in common with the books is the names, dragons and vikings. -The Young Llama Reader.
Pros
An amazing series for young boys!
Very funny and clean!
Totally different from the movies!!!!
Cons
Violence, death, and terrible art…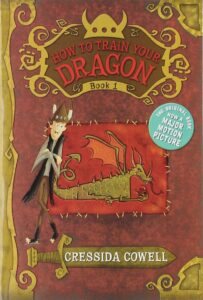 Read the
New York Times
bestselling book that inspired the hit movies!
Hiccup Horrendous Haddock III, the quiet and thoughtful son of the Chief of the Hairy Hooligans, tries to pass the important initiation test of his Viking clan by catching and training a dragon. Can Hiccup do it without being torn limb from limb?
Join his adventures and misadventures as he finds a new way to train dragons–and becomes a hero. This action-packed, hilarious, and perfectly illustrated novel is a modern classic beloved by millions across the globe.
Was this post helpful?
Let us know if you liked the post. That's the only way we can improve.