Young Llama Thoughts
Adventurous

Christian Friendly

Easy Reading

Humerous

Youth Appropriate
Overall
4.4 Llamas










Review
I think that you should read this book right now!!!!!!!!!!! It is soooooo beautifully written and just so moving and I just can't describe it in the words it deserves!!!!! (I ADORE THIS BOOK!!!!!)
This book is about a girl who's mom is white and her dad is black. And she is caught right in the middle trying to figure out who she is. Then she starts to see the in-justness her people deal with and wondering why is this a thing? And will she have to deal with it too, or will she be different cause she's blended right in the middle?
Ok, I am all for the #BlackLivesMatter and I saw this book and picked it up thinking it would be a good book for YoungLlama, but I didn't know how much it would effect me and how I see this broken world! Even the cover spoke to me!
Now, I think this book is kid-friendly; but there is a lot of stuff in it you should be warned about. (SPOILERS!!!!)  (And maybe ask your parents about too.) A girl gets a noose left in her locker cause she is black, which is just sooooo wrong I could hardly believe it. And another girl gets shot by the police because of a big misunderstanding. (And there is also 1 curse word but that doesn't seem like such a big deal when you read the other stuff in the book.)
Over all, this is one book I would suggest to everyone! And yes there is some violence and a lot of racial un-justness but the only way we are ever gonna fix that is if everyone is aware of it and willing to help! I hope you all have a great day!!!! -The Young Llama Reader.
Pros
An AMAZING read that I TOTALLY SUGGEST!!!!
Such a beautiful book!!!!!!!!
Cons
Talk about violence and racial in-justness against people who are black.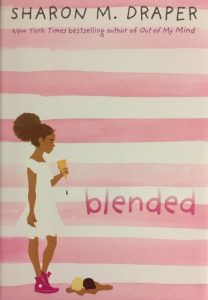 Eleven-year-old Isabella's blended family is more divided than ever in this thoughtful story about divorce and racial identity from the award-winning and New York Times bestselling author of Out of My Mind, Sharon M. Draper.
Eleven-year-old Isabella's parents are divorced, so she has to switch lives every week: One week she's Isabella with her dad, his girlfriend Anastasia, and her son Darren living in a fancy house where they are one of the only black families in the neighborhood. The next week she's Izzy with her mom and her boyfriend John-Mark in a small, not-so-fancy house that she loves.
Because of this, Isabella has always felt pulled between two worlds. And now that her parents are divorced, it seems their fights are even worse, and they're always about HER. Isabella feels even more stuck in the middle, split and divided between them than ever. And she's is beginning to realize that being split between Mom and Dad is more than switching houses, switching nicknames, switching backpacks: it's also about switching identities. Her dad is black, her mom is white, and strangers are always commenting: "You're so exotic!" "You look so unusual." "But what are you really?" She knows what they're really saying: "You don't look like your parents." "You're different." "What race are you really?" And when her parents, who both get engaged at the same time, get in their biggest fight ever, Isabella doesn't just feel divided, she feels ripped in two. What does it mean to be half white or half black? To belong to half mom and half dad? And if you're only seen as half of this and half of that, how can you ever feel whole?
It seems like nothing can bring Isabella's family together again—until the worst happens. Isabella and Darren are stopped by the police. A cell phone is mistaken for a gun. And shots are fired.
Was this post helpful?
Let us know if you liked the post. That's the only way we can improve.