Young Llama Thoughts
Adventurous

Christian Friendly

Easy Reading

Humerous

Youth Appropriate
Overall
4.5 Llamas










Review
(This book was sent to me for free, for my honest review…So here it is!!!!) This book is sooooo beautiful, I wish it was a real story!!!!!! (But alas…it is only fiction. But it is like reading a real story!!!!!) This is such a beautiful tale of a boy finding out what it means to be a man. I totally suggest it NOW!!!!
The book is about this boy, who's father went to war. But when the dad returned, he was changed and distant. So he decides to go on this journey his father went on when he was 15; he decides to ride his bike from Georgia all the way to Key West, Florida. All by himself…
The book was AMAZING!!!! And super interesting to read. The only things which seem like they should be mentioned is the kid talking to someone about the girl he likes, and that person describes her as the red-head goddess Venus. Which he says that's not what I meant, and then they show him a painting of Venus, who's under-dressed…, and accuse him of thinking about the girl he likes… well, like that! Nothing was described, but it was mentioned.
Over all, this book just warms your heart! It is such an awe-inspiring story that makes you feel for and with the character throughout the book. I highly suggest this book to any teen or young adult! And I hope you have a great day!!!! -The Young Llama Reader.
Pros
A really inspiring, semi-sad, beautiful story of a boy finding out what being a man is.
Very clean and teen-friendly!
Cons
Mention of a naked goddess…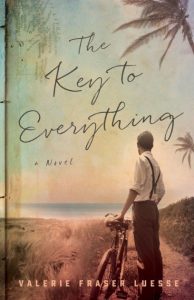 Peyton Cabot's fifteenth year will be a painful and transformative one. His father, the heroic but reluctant head of a moneyed Savannah family, has come home from WWII a troubled vet, drowning his demons in bourbon and distancing himself from his son. A tragic accident shows Peyton the depths of his parents' devotion to each other but interrupts his own budding romance with the girl of his dreams, Lisa Wallace.
Struggling to cope with a young life upended, Peyton makes a daring decision: He will retrace a journey his father took at fifteen, riding his bicycle all the way to Key West, Florida. Part declaration of independence, part search for self, Peyton's journey will bring him more than he ever could have imagined–namely, the key to his unknowable father, a reunion with Lisa, and a calling that will shape the rest of his life.
Through poignant prose and characters so real you'll be sure you know them, Valerie Fraser Luesse transports you to the storied Atlantic coast for a unique coming-of-age story you won't soon forget.
Was this post helpful?
Let us know if you liked the post. That's the only way we can improve.