Young Llama Thoughts
Adventurous

Christian Friendly

Easy Reading

Humerous

Youth Appropriate
Overall
4.4 Llamas










Review
This is the 2nd book on my Summer Llama Book List of 2020!  And I loved this book sooooo much that I read it in hour! (I read waaaayyyyy too fast… But it was just sooooo good!!!!) And the way it talked about different cultures! LOVE!!!! (All cultures are different, and even if you don't agree with some you should ALWAYS respect that culture no matter what! And this book does a beautiful job describing that!!!!)
The book is about these 2 boys, 1 from India and the other from the USA. And it is about them learning to get along with one other, as well as the differences between the 2 cultures.
So, may I say it again… LOVE! The book was sooooooo clean, and super fun to read. (A great book for kids 6 and up!!!!) There was a ton of Indian culture, foods, religions, and words that were very interesting to learn about.  And… a super sweet start to an amazing friendship I wish I could see more of!
But there was also bullying in the book. There was this kid, (who steals stuff, and sticks it down the front of his pants…Gross, but nothing was described) and he bullies the kid from India and makes fun of him. (Which no one should ever do! I don't care what culture or religion they are! No one should ever be made fun of, or their culture mocked!)
Over all, this is such an amazing book that I adore! And I very much suggest it to any kid!!!!! Have an amazing day! -The Young Llama Reader.
Pros
A VERY good book for kids!
Talks a lot about the Indian culture!
Cons
Mention of bullying and making fun of different cultures…
And there is a kid in the book who steals stuff and sticks it in his pants…(weird)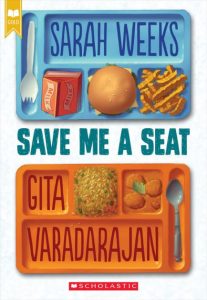 Joe and Ravi might be from very different places, but they're both stuck in the same place: SCHOOL.
Joe's lived in the same town all his life, and was doing just fine until his best friends moved away and left him on his own.
Ravi's family just moved to America from India, and he's finding it pretty hard to figure out where he fits in.
Joe and Ravi don't think they have anything in common — but soon enough they have a common enemy (the biggest bully in their class) and a common mission: to take control of their lives over the course of a single crazy week.
Was this post helpful?
Let us know if you liked the post. That's the only way we can improve.