Young Llama Thoughts
Adventurous

Christian Friendly

Easy Reading

Humerous

Youth Appropriate
Overall
3.6 Llamas










Review
Ok, I loved the movie, but I adore the book!!! The adventure, the action, mystery, magic, romance and fighting keeps you reading till the very end!!! I mean it was amazing!!!!
This book is about a man who has the gift to read books to life! But all goes wrong when one night he reads 3 villains out of the book Inkheart and reads his wife into it! Now 9 years later, his mistakes have caught up to him. And are threatening the life of his daughter. With monsters, villains and danger all around them, can they bring back the family they used to have?
This book was fantastic! I mean 534 pages of awesomeness!!!! I loved it! There was adventure, and magic. Fighting, and rescues! It really was a good book. (And its a trilogy!!!! Can't wait to read books 2 and 3!) Anyways, the book is very good and pretty clean. There are a few curse words. And there is a slow build up in the beginning of the book. But it is still amazing! And of course there is magic. Potions and spells are mentioned mostly by the superstitious folk. Some mention of magical creatures that are harmful to people. And obviously there is the magic that the "Silvertougues" have that allow them to bring the books to life. No voo-doo or creepy magic. It's just the mgaic of books. (Oh and a giant man-eating creature called the Shadow made out of ash and stuff… That's all)
However, there is violence. People get burned, shot, stabbed, cut, they "disappear" and such. Some talk about kids who were abused. Nothing is really described, but there is some mention of blood. Plus some mention of maidservents being the masters favorites. (Nothing described, that is all that is mentioned.)
Over all, I LOVE IT!!!!! I am sooooo head of heels in love with this book and can not wait to read the others!!!!!! I very much suggest this series to kids and teens (10 and up) who love a good, clean magical adventure. Have a great day! -The Young Llama Reader.
Pros
An amazing adventure!!!!
Interesting and very captivating!
Great for kids 10 and up!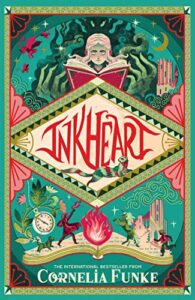 One cruel night, Meggie's father reads aloud from a book called INKHEART– and an evil ruler escapes the boundaries of fiction and lands in their living room. Suddenly, Meggie is smack in the middle of the kind of adventure she has only read about in books. Meggie must learn to harness the magic that has conjured this nightmare. For only she can change the course of the story that has changed her life forever. This is INKHEART–a timeless tale about books, about imagination, about life. Dare to read it aloud.
Was this post helpful?
Let us know if you liked the post. That's the only way we can improve.