Young Llama Thoughts
Adventurous

Christian Friendly

Easy Reading

Humerous

Youth Appropriate
Overall
4.3 Llamas










Review
Ok, I ADORE this book!!!!! It is literally about a girl who lives in a book shop and can travel INTO BOOKS!!!!! (And she lives in London! I love London… 🙂 ) Ok, this book is just sooooooo awesome, and I can't wait till get the 2nd one! (Yes that's right, there's a 2nd one. I love it when the 2nd's already out so I don't have to wait to read it!)
The book is about a girl who lives with her grandparents in London, INSIDE a bookstore. (Who's already in love with the book? I wanna live in a bookstore!) Her mother went missing years ago and she wants to find her; but then she finds out she can go into her favorite books! But danger lurks around every corner and not every book may be what it seems…
First of all, this book is soooo clean and VERY kid-friendly! Obviously there is some violence, pirates, being trapped in books, and ah…. Nope that's it! (I told you the book was clean!) There is some magic as well, but only when you travel into the book. (Book traveling is magic in a way, so yes magic alert!)
Over all, Yes!!!! A must read for kids and teens! And a new Book of the Month for June 2020!!!!! I most definitely suggest this book, and I can't wait to read the 2nd and the 3rd when it comes out!!! Have an Hat-tastic day! -The Young Llama Reader.
Pros
An AMAZING book for any kid or teen!!!
It's a book about traveling into BOOKS!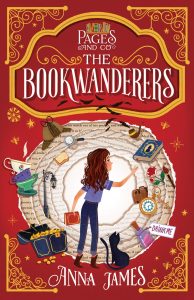 Since her mother's disappearance, eleven-year-old Tilly Pages has found comfort in the stories at Pages & Co., her grandparents' bookshop. But when her favorite characters, Anne of Green Gables and Alice from Wonderland, start showing up at the shop,Tilly's adventures become very real. Not only can she follow Anne and Alice into their books, she discovers she can bookwander into any story she chooses. Tilly's new ability leads her to fun and exciting adventures, but danger may be lurking on the very next page…
When new secrets are uncovered, it's up to Tilly to solve the mystery of what happened to her mother all those years ago. From debut author Anna James comes a charming and exciting adventure about a bookish young heroine, a mysterious librarian, and a magical bookshop that will delight book lovers everywhere.
Was this post helpful?
Let us know if you liked the post. That's the only way we can improve.