Young Llama Thoughts
Adventurous

Christian Friendly

Easy Reading

Humerous

Youth Appropriate
Overall
3.4 Llamas










Review
This book was sent to me by Baker Book House for my review and it was pretty good! It is actually the 2nd book in the series, but the good news is Revell sent me the first book earlier this year!
This book is about a young women trying to make her place in the world as a doctor. After she left her hometown to chase her dream, she didn't really want to come back; but when she finds a young man on the side of the road unconscious with a badly broken leg she might have to stay longer than she wanted. With mystery and chaos at every turn, she will have to find a way to heal the broken town that doesn't want her, and he will have to learn what really matters in life before it's too late!
This book was pretty good, with a nice plot point, lots of adventure and a sweet romance. I did enjoy it. However this book is about the bratty sister from the first book, so I had a hard time relating to her. She just seemed a bit stuck-up and spoiled for me to really like the book so…. It is a good read, fun mystery, interesting characters and such, I just don't like her.
There is some blood and violence in the book. Mention of broken bones, mothers giving birth, stillbirths, allergies and poison. There is mention of someone breaking their neck which is a bit dramatic. And the births aren't described, but it does mention pools of blood and such… which is gross…
Overall, this book was ok. A bit dramatic, and I don't like the young women's character, but this would be a good book for girls 16 and up. I hope you all have a beautiful day!!!! -The Young Llama Reader.
Pros
A sweet romance perfect for teens!
A great historical-read!!!
Cons
Some blood and death mentioned…
Violence…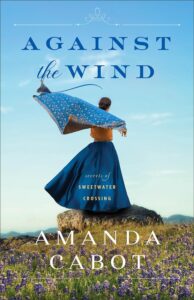 Doctor-in-training Louisa Vaughn has no intention of remaining in Sweetwater Crossing. She's just there for a few days to help a friend. But she can't abandon the injured man she finds at the side of the road. Until his broken leg heals, she'll serve as the town's doctor and midwife. She may not be fully qualified yet, but surely she's better than nothing.
Josh Porter's plans to win his grandfather's challenge and fulfill his father's final wish to gain full control of the family business hit a roadblock when he breaks his leg. But his enforced stay in Sweetwater Crossing gives him new ideas about the expansion of the company into new territory–ideas Louisa could help turn into reality.
If only the town were more accepting of Louisa's talents! Someone is determined to convince her to abandon her dream of healing others. Can Josh help her uncover the person behind the threats before it's too late? And is there any future for them together when neither of them plans to stay?
Was this post helpful?
Let us know if you liked the post. That's the only way we can improve.