Young Llama Thoughts
Adventurous

Christian Friendly

Easy Reading

Humerous

Youth Appropriate
Overall
4 Llamas










Review
I LOVE THIS BOOK!!! I seriously adore it, I'm obsessed and you should be too! Like for real, this book is like reading a rom-com movie! It's romantic, hilarious and completely perfect!
This book is about Henry and Edith. 2 very different people living in the same house. Henry works days, while Edith works nights. Henry thinks she is an elderly widow, Edith thinks he is a grumpy old man, and they both keep meeting each other without knowing it! With drama, humor and adventure this is the perfect romance novel for any young lady 18 and up!
Ok, I absolutely love this book! It is sooooo sweet, sooooooo cute and sooooooooooo perfect! It's funny, heartwarming and literally should be the script to a rom-com movie! I think this book is perfect for any young lady 18 and up who loves a good romance!
The only reason this book is 18 and up is just because it is written for adults. It's perfectly clean and I do think that a 16 year old could read it, it's just a book written for women. There is some violence mentioned. Some small fights happen and some mention of hospital stuff. Almost no blood at all.
Over all, this is the perfect romantic book!!!!!!! I love it and it deserves to a movie!!!! (Though let's be honest the book would be better!) I hope you all have a beautiful, blessed day! -The Young Llama Reader.
Pros
An amazing book for young ladies!
Super sweet, very romantic and just fabulous!
A must read!
Cons
There is no con this book is amazing!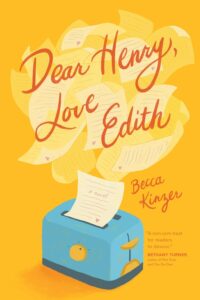 He thinks she's an elderly widow. She's convinced he's a grumpy old man. Neither could be further from the truth.
After a short and difficult marriage, recently widowed Edith Sherman has learned her lesson. Forget love. Forget marriage. She plans to fill her thirties with adventure. As she awaits the final paperwork for a humanitarian trip to South Africa, she accepts a short-term nursing position in a small Midwestern town. The last thing she needs is a handsome local catching her eye. How inconvenient is that?
Henry Hobbes isn't exactly thrilled to have Edith, who he assumes is an elderly widow, dumped on him as a houseguest for the summer. But he'd do almost anything for his niece, who is practically like a sister to him given how close they are in age. Especially since Edith will be working nights and Henry works most days. When he and Edith keep missing each other in person, they begin exchanging notes―short messages at first, then longer letters, sharing increasingly personal parts of their lives.
By the time Henry realizes his mistake―that Edith is actually the brown-eyed beauty he keeps bumping into around town―their hearts are so intertwined he hopes they never unravel. But with her departure date rapidly approaching, and Henry's roots firmly planted at home, Edith must ultimately decide if the adventure of her dreams is the one right in front of her.
Reminiscent of the beloved classic You've Got Mail comes a delightful new romantic comedy about mistaken identities, second chances, and finding love in unexpected places.
Was this post helpful?
Let us know if you liked the post. That's the only way we can improve.