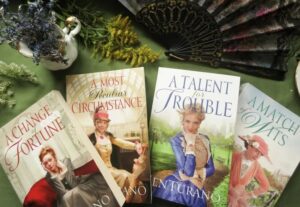 These are such amazing books for girls 16 and up! They are clean, interesting, filled with adventure and lots of fun! I have been reading these books for years. And I think I have read almost all of them at this point.
Jen Turano writes about different ladies in the 1900's. Though these aren't your typical ladies in high society. More like the ladies who stand out, are wallflowers or have a mind of their own. Every book is different and all of them are hilarious!
There is some violence, mention of scandalous things like women's ankles or being unchaperoned. (The horror! However, there is some mention of stuff like that, and how it was a such a big deal back then. That's why these books are 16 and up.)
Over all, I love her books! I totally suggest ones like After a Fashion, To Steal a Heart, A Match in the Making and Storing Up Trouble. All of those books are sooooooooo good! May you all have a Hat-tastic day! -The Young Llama Reader.
Was this post helpful?
Let us know if you liked the post. That's the only way we can improve.