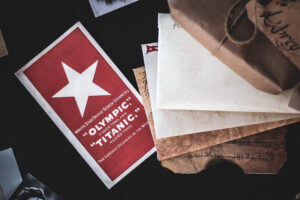 Letter 20!!!!!!! The Lost in Time Letters are slowly coming to a close!!!!!!! (Whatever shall we do?!?!?!?!) But can I just say this letter series is just too cool!!!! I totally suggest these letters to those who love mail, the Titanic and romantic historical letters! In letter 20 I got a short story from Cordy's point of view, 2 fun fact sheets and a really cool letter from a reverend who was on the Titanic as it sank to it's watery grave.
In the short story, Cordy is mailing a letter to Chad right before she boards the Titanic and sails to New York. In her letter she tells him news of their child and even though she will reach Chad before the letter does she can't wait to see his face. After she is on the Titanic she witnesses the close call of the New York and the Titanic almost colliding. After such a scary close call Cordy decides to go back her suite; but on her way there she overhears a couple talking about a fire that has been burning in the Titanic's coal bin. After this she goes to look into it herself. Talking to one of the crew she finds out the fire had been burning for 10 days before the Titanic set off on it's voyage. The letter ends with Cordy wishing she was back in Chad's arms safe and sound and off the Titanic….
The next part of letter 20 is a small piece of paper with a letter from Rev. John Harper to a fellow minister. The hard to read letter talks about the reverends ministry and how thankful he was for the fellow ministers work. What's more interesting than the letter is the fun fact sheet about the letter. Did you know the actual letter sold for $46,242?!?!? And the reverend was begging people to turn towards the Lord even while he was drowning in the frigid waters while the Titanic sunk.
This letter though shorter in the story part, was filled with info on other passengers on the Titanic and made a really intriguing tale come to life! These Lost in Time Letters are AMAZING! I totally suggest this letter subscription and I hope you all have a wonderful Labor Day!!!! -The Young Llama Reader.
Was this post helpful?
Let us know if you liked the post. That's the only way we can improve.