Young Llama Thoughts
Adventurous

Christian Friendly

Easy Reading

Humerous

Youth Appropriate
Overall
4 Llamas










Review
So my family is awesome! I get books all the time from them and this book is no exception! Especially since my Grandpa found these books at our farmers market, meet the author and told me about the series. So of course I had to go find her booth, get all 3 of her books and the author even signed them!!!! (Thanks Ms. Mary!!!) And I just finished book 1 and now I am obsessed, and I feel like girls 16 and up would also be obsessed with these books as well!!!!
This book is about a young girl named Margaret, who just wants to fit in at her high school and have a normal life. But it can be hard to be like everyone else when she wakes up one morning after her life has changed and starts acting like a warrior maiden from the medieval times. Now on a quest to discover what happened that one night, Margaret discovers that as her memories return so does a magical place where she was a healer elf, fighting alongside of dwarfs and mortals to free their world. And as more memories come back, her soul longs to return to her lost world of light vs. dark…
This book was wonderfully written, filled with mystery, magic and adventure, and super clean! I loved the plot line and the story was very good. Book 1 builds up into the story slowly so you can get to know the characters and the magical world of Baeren Ford and the lands beyond. The story takes place over a few years and you get to experience with the characters how life in the middle ages was vastly different from what we know and love. The author takes you to this wonderful world of hard-working people willing to do anything to defend their land.
Now, this book is for girls 16 and up. There is some adult topics mentioned. A man does try to show his "affection" to the main character but nothing happens, it is simply mentioned that he wants to show her what she is missing. The main character is also a healer and she has to help someone give birth and it does mention a bit of how a healer has to check her patient and such. Nothing is described but it is mentioned. So this book is for older teens not kids.
Over all, I love this book and I am already enjoying book 2!!! I can't wait to read the entire series and enjoy where the story takes me next! Hope you all love this book as much as I did! -The Young Llama Reader.
Pros
A really good book for girls 16 and up!
Adventure, magic and a wonderful story!!
Christian-friendly!!!
Cons
Not a kids book…
Some adult topics mentioned…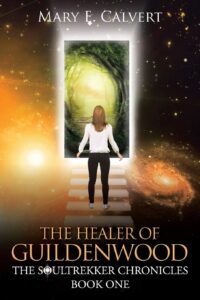 Margaret Ann Shepherd just wants to be a "normal" high school senior and not be seen as the least bit weird. But nothing extraordinary ever happens to anyone who is not a little odd . . .
When Margaret Ann wakes one morning acting as though she's just stepped out of the Middle Ages, everyone starts to doubt her sanity. But what really happened on the night in question? Placed in therapy to get to the bottom of her "eccentricities," memories emerge of another body, another world, another life—lived over the course of one night.
In The Soultrekker Chronicles Book I, The Healer of Guildenwood, Margaret Ann struggles to make a new life with a new name, Arwyn, in a world where elves, mortals, and dwarves live beneath a shadow of tyranny, groaning for redemption. Arwyn must carefully navigate her abilities in combat and the art of healing, which she learns from a mysterious old hermit who seems to know more about her than he willingly admits. And when she accidentally attracts the attention of a brutal dictator, Draigon, her new world becomes even more dangerous. Is she truly an elf, revered by some, feared and hated by the powers that be, or do her passionate tendencies hint at a mortal nature?
Elf or mortal, her soul was "borrowed" for a purpose she can scarcely imagine. Arwyn will either fall into despair over her lost life . . . or discover that which she was born to be.
Was this post helpful?
Let us know if you liked the post. That's the only way we can improve.