Young Llama Thoughts
Adventurous

Christian Friendly

Easy Reading

Humerous

Youth Appropriate
Overall
3.9 Llamas










Review
Yet another book that sat on my to-be-read-shelf and was surprising fantastic! (Seriously, I have like 50 books on that shelf and some of them might be really good! I have no Shelf Control… 😉 )
This book is about a young girl who wishes she was a character in a book instead of dealing with her very-real, very-messy life. With a mom who never leaves the house, a dad in the hospital, an annoying little sister who can't shut up and a best friend turned bully, she is certain her life is ruined. Until the new girl comes along and shows her how to have courage even in the darkest moments. Maybe Mysti can learn how to have the courage to change for the better.
This book was very sweet. I loved the story line and the focus on true friendship. This book is very clean and would be great for girls 8 and up. I love how the book focused on how friends come and go, but courage to be yourself is what can stay forever.
There is lots of bullying in the book. Mysti's best friend starts making fun of her, pushes her, uses her for projects and jokes, and basically makes her life miserable just because he wants to impress some girl. However, Mysti does befriend the new muslim girl and learns how to be herself. The book doesn't talk about the new girls religion but it does mention her hijab and how everyday it's a new color. (Which is such a cool unique detail.)
Over all, this book was such a sweet story! I love the plot and the ending. And I do suggest this book to girls 8 and up. It is a super cute book and a very clean read! Have a Hat-tastic day! -The Young Llama Reader.
Pros
A sweet book about true friendship!
Well written and very clean!
A good book for kids 8 and up!!!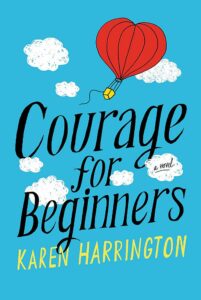 Twelve-year-old Mysti Murphy wishes she were a character in a book.
If her life were fictional, she'd magically know how to deal with the fact that her best friend, Anibal Gomez, has abandoned her in favor of being a "hipster."
She'd be able to take care of everyone when her dad has to spend time in the hospital. And she'd certainly be able to change her family's secret.
Seventh grade is not turning out the way Mysti had planned. With the help of a hot-hair balloon, her new friend Rama Khan–and maybe even the heroes of the Texas Revolution–can she find the courage to change?
Was this post helpful?
Let us know if you liked the post. That's the only way we can improve.