Young Llama Thoughts
Adventurous

Christian Friendly

Easy Reading

Humerous

Youth Appropriate
Overall
4.5 Llamas










Review
Cornelia Funke is quickly becoming one of my new favorite authors! With books like Dragon Rider, InkHeart and now Thief Lord, I can honestly say I am obsessed!!!!
This book is about 2 brothers who are running away from their aunt and uncle to Venice. Hoping to escape being split up, they join a street urchin family in the crumbling walls of the sinking city; and with a leader like the Thief Lord they believe they are safe from ever being found. But with a detective on their tail and no-where to go, the crew takes a job to steal a special object that could control age and perhaps fix their problems…
This book was amazing!!! I have no complaints!!!! It has action, adventure, mystery, magic and a family of orphans trying to figure out how to stay together through the thick and thin. This book has totally earned my Golden Llama award and I think it is totally clean and perfect for kids 9 and up who love a good adventure!!!!
This book doesn't really have any cons. The orphans come from orphanages and families that are just described as bad. The 2 brothers are trying to stay together and their aunt only wants the little one and just wants to get rid of the older one. There is some magic in the book as well. Mention of a device that can change time. Nothing voo-doo or creepy, just a hint of a magical thing.
Over all, this book is amazing! I love the mystery, adventure, magic and the focus on families that may be different but they still love each other. This book was fantastic and I very much suggest it to kids! And I hope you all have a book-filled day!!!!!! -The Young Llama Reader.
Pros
A fantastic book perfect for kids!!!
Funny, magical and beautifully written!
Golden Llama!!!!!!!!!
Cons
Some mention of orphans running away from bad families…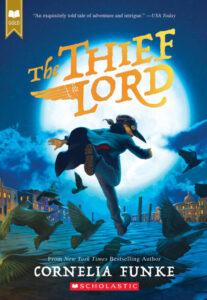 The enchanting international bestseller with bonus back matter and a beautiful new cover!
Two orphaned brothers, Prosper and Bo, have run away to Venice, where crumbling canals and misty alleyways shelter a secret community of street urchins. Leader of this motley crew of lost children is a clever, charming boy with a dark history of his own: He calls himself the Thief Lord.
Prosper and Bo relish their new "family" and life of petty crime. But their cruel aunt and a bumbling detective are on their trail. And posing an even greater threat to the boys' freedom is something from a forgotten past: a beautiful magical treasure with the power to spin time itself.
Was this post helpful?
Let us know if you liked the post. That's the only way we can improve.