Young Llama Thoughts
Adventurous

Christian Friendly

Easy Reading

Humerous

Youth Appropriate
Overall
4.6 Llamas










Review
This book is too sweet! It has family and friendship, music and science, and is just such a cute story!!!! (Though some parts are sad and make you want to hug someone!!!!!!!!!)
This book is about 2 siblings trying to figure out how to cope after their famous quarterback dad disappears. The brother has found a distraction by playing the tuba, the perfect dramatic instrument; while his sister throws herself into a science project to she if she can cure memory loss through jelly-fish experiments. But when the siblings notice their teachers acting strange, they will have to team up to save the day, save their family and possibly save a bear.
This book is adorable! It has a great message about friendship and family while stilling being funny and uplifting! It is a very clean read with lots of interesting parts and cute friends. I love the story line and I think this book is totally clean for kids 8 and up.
However the book does have some sad parts. The siblings dad is gone and no one knows where he is. The kids aren't really coping well. Also there are weird teachers in the book. Nothing inappropriate but they are strange. (SPOILER! Near the end of the book, the teachers are part of some pop star dance group and all dress up as cats in leotards with tails and ears… Weird but not gross or anything. Just strange.)
Over all, this book is so sweet and a great story for kids! I really love this book and will be looking for more by this author. Have a beautiful day! -The Young Llama Reader.
Pros
A really sweet story!!!
Friendship and family!
Science and music!!!
Cons
Weird teachers…
Some sad parts…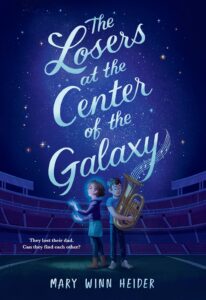 A tuba player without a tuba and his jellyfish-imitating sister cope with their father's disappearance in a middle-grade novel both hilarious and moving by Mary Winn Heider, the author of
The Mortification of Fovea Munson
. Now in paperback!
When Lenny Volpe, former quarterback of the worst professional football team in the nation, leaves his family and disappears, the Chicago Horribles win their first game in a long time. Fans are thrilled. The world seems to go back to normal. Except for the Volpe kids.
Winston throws himself into playing the tuba, and Louise starts secret experiments to find a cure for brain injuries, and they're each fine, just fine, coping in their own way. That is, until the investigation of some eccentric teacher behavior and the discovery of a real live bear paraded as the Horribles' new mascot make it clear that things are very much Not Fine. The siblings may just need each other, after all.
Was this post helpful?
Let us know if you liked the post. That's the only way we can improve.