Young Llama Thoughts
Adventurous

Christian Friendly

Easy Reading

Humerous

Youth Appropriate
Overall
4.4 Llamas










Review
Fun fact about me, about one-third of the books I read, I read out of order. I don't even know how many times I have read book 2 first in a series… And I did it again. Turns out this book is the first in a Doughnut series by Jessie Janowitz and I read the 2nd book like 5 years ago… Whoops.
This book is about a boy named Tristan who is content living in New York City with his family and baking new desserts every week. Until one day his family decides to move to a town in the middle of nowhere with one street and it doesn't even have a restaurant! Now Tris is stuck in Petersville with nothing to do but dream about the life-changing doughnuts that the town had years ago… Until he decides to try making the doughnuts…
This book is too cute! It has a great story line, fun characters, yummy recipes and a fluffy raccoon. What's not to love?!? Seriously though, this book is super clean and very kid-friendly. It doesn't even have any "cons" that I can think of besides annoying siblings. I mean this is just a nice simple story that is perfect for kids 8 and up.
Over all, I loved this book. It was funny, clean, kid-friendly and had a great plot line. I totally suggest this book and series and may you have a hat-tastic day!!! -The Young Llama Reader.
Pros
Super clean!!!
Very kid-friendly!!!
A great read for boys and girls 8 and up!!!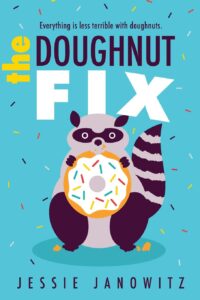 Superfudge meets The Lemonade War in this funny, heartwarming book about change, adventure, family, and of course, doughnuts.
Tristan isn't Gifted or Talented like his sister Jeanine, and he's always been okay with that because he can make a perfect chocolate chip cookie and he lives in the greatest city in the world. But his life takes a turn for the worse when his parents decide to move to middle-of-nowhere Petersville―a town with one street and no restaurants. It's like suddenly they're supposed to be this other family, one that can survive without bagels and movie theaters.
His suspicions about his new town are confirmed when he's tricked into believing the local general store has life-changing chocolate cream doughnuts, when in fact the owner hasn't made them in years. And so begins the only thing that could make life in Petersville worth living: getting the recipe, making the doughnuts, and bringing them back to the town through his very own doughnut stand. But Tristan will soon discover that when starting a business, it helps to be both Gifted and Talented, and it's possible he's bitten off more than he can chew…
Was this post helpful?
Let us know if you liked the post. That's the only way we can improve.