Young Llama Thoughts
Adventurous

Christian Friendly

Easy Reading

Humerous

Youth Appropriate
Overall
4.1 Llamas










Review
This book was sent to me by Baker Book House and it is soooo sweet!!! (No pun intended 🙂 ) I love how this book brings families together and pushes through the sadness of life to find what true happiness is!!!
This book is about Callie Dixon. A executive chef with big dream who gets fried from her job after accidentally poisoning 200 people. Now she is looking for somewhere to lick her wounds and start over. So when her aunt suggests that she come live with them for awhile, Callie jumps on the chance. Once there, her life just continues to spiral downwards with no hope of ever seeing the light again… Until her cousin sighs her up for a Secret to Happiness class. Maybe there is more to life than Callie thought?
I actually really loved this book! The first chapter felt really rushed to me but the rest of the book is AWESOME!!!!! I loved how this book really shows how life can hit rock bottom, but there is still happiness if you are willing to look for it. It has a wonderful impact on what makes you happy, how God is always looking out for you and how family can really make you life better! (Seriously, this book is one of my new favorites!)
Now the young women in the book is very depressed. She is going through some things that are changing her life and not in a good way. So there is a lot of talk about how she always sleeps, stares at ceilings and isn't certain life has a purpose anymore. Basically there is lots of talk about depression and diseases that can kill people. It can be very sad to read about so I don't think this is a teen book as much as it is an young adult book. (I would say a lot of Baker Book House books are for teens 16 and up. They just have topics that I don't think some teens would like)
Over all, this book was amazing!!!!! I totally and completely suggest it and I hope you all have a book-filled day!!!! -The Young Llama Reader.
Pros
A very good book about family and love!
Super clean and very uplifting!!!
Good for young women!!
Cons
Mention of diseases and depression…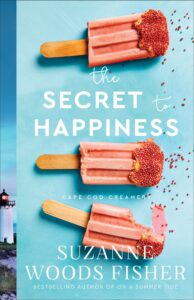 Escape to Cape Cod—where you just might find the secret to happiness
Callie Dixon had the world by its tail . . . until it all slipped away. Fired from her dream job after making a colossal mistake, she's escaped to her aunt's home on Cape Cod for time to bounce back. Except it isn't a home, it's an ice cream shop. And time isn't going to help, because Callie's bounce has up and left. There's a reason she made that mistake at work and she's struggling to come to terms with it.
Things go from bad to worse when Callie's cousin Dawn drags her to a community class about the secret to happiness. Happiness is the last thing Callie wants to think about right now, but instructor Bruno Bianco—a curiously gloomy fellow—is relentless. He has a way of turning Callie's thoughts upside down. Her feelings, too.
Could Bruno be right when he says that hitting rock bottom is the very best place to be? If so, how is that supposed to help her find exactly what—or who—has been missing all along?
Was this post helpful?
Let us know if you liked the post. That's the only way we can improve.