Young Llama Thoughts
Adventurous

Christian Friendly

Easy Reading

Humerous

Youth Appropriate
Overall
4.2 Llamas










Review
This book was sent to me by Baker Book House for my honest review. And let me just say I really loved it! This book has mystery, romance, teamwork and a bit of adventure; and I really think this would be a great book for girls 16 and up.
This book is about a young women from the big city, who finds out that her father whom she has never meet left her an inheritance. Against her mothers wishes, she travels to a small town to see what her father left to her. Once there she has to team up with a family full of crazy, stubborn people to discover what her father really gave her. And with every new discovery she finds, she wonders what her father is hiding and who might want this swindlers secrets…
This book was very good. I really liked the plot twists, mystery and a bit of action. This is a historical romance that I think girls 16 and up could totally read! There is some violence. People get hit, punched, shot and such. But nothing is described in detail. (Though there is some mention of blood) The action is actually really clean in this book. And it is perfect for girls 16 and up who love a good historical, Christian romance!
My only complaint in this book is one of personal opinion. I really don't like the lead-guys mother! She drove me nuts throughout the entire book. The mom is one of the people who declares the Will of the Lord is what they want and you should listen to them because God told them so. (Don't you just love a manipulative Christian?) I just don't like people like that. She has no proof that God wants the lead-lady to do what the mom wants and I just didn't like her.
Over all, other than the semi-annoying character this was a great book and I very much suggest it! If you like historical romance novels with some action and mystery this is the book for you. Adios! -The Young Llama Reader.
Pros
An amazing book for girls 16 and up!
Very clean and interesting!!!
Christian-friendly!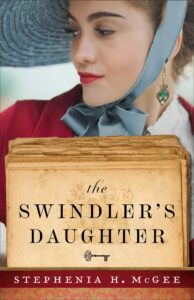 A surprise inheritance. A cache of family secrets. A choice that will change her life forever.
Lillian Doyle has lived her entire high-society life with her widowed mother, believing her father died long ago. But when news arrives that her estranged father only recently passed away–in jail–Lillian is startled to find that the man has left a business and all of his possessions to her, making her a rather unusual heiress.
When she goes to take possession of her father's house in a backwoods Georgia town, the dilapidated structure is already occupied by another woman who claims it was promised to her son, Jonah. In her attempts to untangle the mess, Lillian will discover not only a family she never knew she had but a family business that is more than meets the eye–and has put a target on her back.
To discover the truth and take hold of the independence she's always dreamed of, she'll have to make friends with adversaries and strangers–especially Jonah, the dusty and unrefined cowboy who has secret aspirations of his own.
Was this post helpful?
Let us know if you liked the post. That's the only way we can improve.