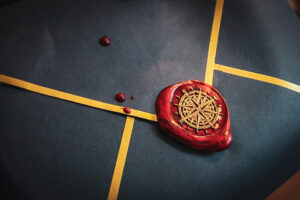 Letter 11!!!!!! The mystery continues… (And you all know how I love a good mystery!) This lost in Time Letter was super interesting and picks up where letter 10 left off.
In this letter I got a fun fact sheet, letter 11, a picture of a man next to the Titanic and a cipher of some sorts that looks all burned up! This letter is from Chad to Cordy and he talks about how much he misses her and can't wait to get married. (To cute!) Chad writes to her how he would love to take her with him on deployment and how even though it isn't customary he would love to have her with him. He also says that if she doesn't like the sea life at all he would give it all up just for her! (Which was just soooooooo sweet!!!!) Chad says he would love to marry her next month and the only reason he wanted to wait is so they could have their honeymoon abroad the Titanic. (Terrible idea if you ask me)
But then the letter takes an interesting turn… Chad writes about how he is sorry that Cordy is missing her brother, however he has been looking into the letter she found and has discovered some strange news. He talked to the builders of the Titanic and found out that the boy who wrote the letter died the very next day! He also sent letters to the chairman asking about the modifications of the Titanic and they said everything was fine and they used the same "improvements" on the Olympic. Afterwards, Chad started searching for the Alfie Walsh fellow to see if he could deliver the letter. And the address led to an old warehouse. After searching some more, a worker gave him a photo of Alfie but Chad can't really see his face in the photo and sent it to Cordy to see if see can tell.
Chad also looked into where Alfie went afterwards and discovered he was on the same train that Cordy's brother was killed on. But this is where it gets interesting. Cordy's brother was never listed on the train… After looking some more, Chad found a burned journal filled with strange symbols that almost look like railroad tracks. Chad urges Cordy to keep this to her self until her can figure out what is going on. And the letter ends with him saying he will write soon.
Over all, this letter was awesome!!! The mystery, cypher and strange photo are sooooo cool!!!! I totally suggest these letters to girls who love a good love letter mystery filled with fun facts!!!!!! -The Young Llama Reader.
Was this post helpful?
Let us know if you liked the post. That's the only way we can improve.