Young Llama Thoughts
Adventurous

Christian Friendly

Easy Reading

Humerous

Youth Appropriate
Overall
4.7 Llamas










Review
Ok this book is awesome! (And was another book sitting on my "To be Read" shelf… I REALLY need to go through that shelf!) I have always loved Gordon Korman's books and this one was another fantastic read!!!
This book is about Keenan, a normal boy with a normal life expect he travels the world with his mom, lived in numerous countries and currently has tuberculosis and is stuck living with his dad. But his dad lives on an island that is split between the US and Canada. And was a notorious gangster island. Now he is stuck with a girl who is positive her giant troublesome dog was murdered and he is starting to believe it. And there might be an hidden gangster past to unravel the dogs murder…
This book was really good! It's super clean and great for kids 8 and up! It has mystery, friendship, humor and a real life story filled with cute dogs! There is some mention of kids partying but there like 12 so nothing happens expect the kids trash a place and break some stuff.
There is some violence in the book. Mention of gangsters and what they did. Mostly how they got arrested, shot some people and stole some gold. And some animals die. Not really described, just mentioned. And one guy in the book is really rough with his kid. He yanks his kid out of a car because he's clothes are wet and doesn't want the seats damaged. (It's more like an after thought in the book. Kind-of like this kids story is in the background)
Over all, this is a fantastic book for boys and one I totally suggest!!!!! It's very clean and super funny, did I already mention how I love Gordon Korman's books? Read it!!!! -The Young Llama Reader.
Pros
A very clean and funny books!
Great for young boys!!!!
Super amazing read!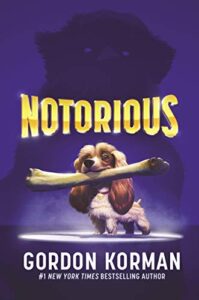 Keenan has lived all over the world but nowhere quite as strange as Centerlight Island, which is split between the United States and Canada. The only thing weirder than Centerlight itself is his neighbor Zarabeth, aka ZeeBee.
ZeeBee is obsessed with the island's history as a Prohibition-era smuggling route. She's also convinced that her beloved dog, Barney, was murdered—something Keenan finds pretty hard to believe.
Just about everyone on Centerlight is a suspect, because everyone hated Barney, a huge dog—part mastiff, part rottweiler—notorious for terrorizing the community. Accompanied by a mild-mannered new dog who is practically Barney's opposite, ZeeBee enlists Keenan's help to solve the mystery.
As Keenan and ZeeBee start to unravel the clues, they uncover a shocking conspiracy that dates back to Centerlight's gangster past. The good news is that Keenan may have found the best friend he's ever had. The bad news is that the stakes are sky-high.
And now someone is after them. . . .
Was this post helpful?
Let us know if you liked the post. That's the only way we can improve.