Young Llama Thoughts
Adventurous

Christian Friendly

Easy Reading

Humerous

Youth Appropriate
Overall
3.8 Llamas










Review
This book was sent to me by Baker Book House for my review. And it was sooooo cute!
This book is about Mallory, a women with a very successful interior design business and 3 kids who are all grown up and moving on with their lives… But she isn't. Though she is happy where she is at in life, Mallory longs for something more, and maybe another chance at love with it. So when her grandmother leaves her shop to her, Mallory decides to open an interior design store to showcase all that she loves! But the store may need a lot more work then she thought… and the only person who can help is a childhood crush who wants to buy it out from under her…
This was a great read! I loved the romance, humor and story line. The book was a nice piece of real life, with plenty of funny parts and romantic interests. The beginning was a bit slow for me. It took a few chapters for it too build up, but it is still a great read for young women. (I would say 16 and up just because its a story more for young people not kids.) There is lots of drama in the book. Crazy family and contractors, lots of problems and more.
Over all, this is a wonderful for books for girls 16 and up! It is very clean, filled with humor and has a great story line. I hope you all have a great day! -The Young Llama Reader.
Pros
A great book for young women!
Clean, funny and very sweet!
Christian-friendly!
Cons
The beginning is a bit slow…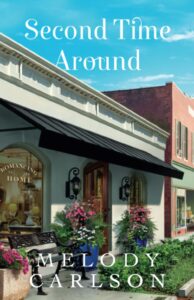 Who doesn't love a second chance?
When empty nester Mallory Farrell inherits her grandmother's run-down tourist shop in Seaport, Oregon, it seems the only sensible thing to do is to sell it. But when her former secret crush, Grayson Matthews, wants to buy the property in order to complete his plans to redevelop the funky town's business district into a soulless, cookie-cutter outdoor mall, Mallory digs in her heels and decides to renovate the property herself.
With a lot of hard work and a little bit of help, Mallory makes incredible progress turning the store into an eclectic home décor shop called Romancing the Home–all while trying to ignore the depressing and decrepit apartment she's living in on the second floor. When the shop catches the eye of a popular renovation TV show producer, Mallory is thrilled–until it becomes clear that her apartment is to be part of the segment as well.
She's tempted to abandon her dreams and the town under a cloud of shame. But perhaps there's more to Grayson than meets the eye. Can he swallow his pride, change his plans, and help Mallory romance her own home–and possibly her life?
Was this post helpful?
Let us know if you liked the post. That's the only way we can improve.