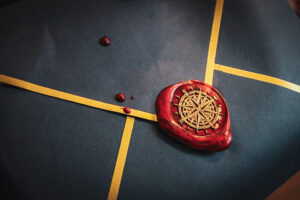 Ok, this is the 7th Lost in Time Letter by C. D. Ross and let me tell you it was full of fun facts!!!!I already love these letters that I get in the mail twice a month but I love collecting fun facts! So now I am completely obsessed!!!
Like did you know that the Olympic collided with the HMS Hake off the isle of Wight?!? And that to fix it they had to borrow parts from the Titanic that was still in construction? (Awesome right?!?!)
In this letter from Chad to Cordy, he talks about the collision and how is scared him a little. And how it made him think about the life boat situation Cordy was writing him about. Chad mentions of how he talked to the board but that they assured him the 20 lifeboats on board were enough. (Even though they only support half of the people on board the ship…)
Anyways, also mentioned in this letter is the special soap the Titanic gives all their passengers. And my letter came with a small bar of soap and a little poster for it! Cooler than that is the fact that the soap is still made with the exact same recipe!!! (Though it is a VERY strong smelling soap! No surprise though. The Titanic was a Bigger is Better kind-of ship.)
Over all, I especially loved this letter! The fun facts and interesting details that Ms. Ross has captured in these love letters is amazing!!!! And I TOTALLY suggest you go get this subscription for yourself right now! Till next time, my Llamaings! -The Young Llama Reader.
Was this post helpful?
Let us know if you liked the post. That's the only way we can improve.