Young Llama Thoughts
Adventurous

Christian Friendly

Easy Reading

Humerous

Youth Appropriate
Overall
4.5 Llamas










Review
So, I am a huge fan of Gorgon Korman's books!!! They are sooo clean and perfect for young boys! So, no surprise, I got this book and LOVED IT!!!!!!
This book is about a boy named Mason who is obsessed with science, and science-fiction. And he and his best friend Ty were inseparable in 7th grade until Ava came in between them. Now 5 years later he has lost his best friend, the girl he liked, his parents are divorced and his dog is dead. His life is pretty much ruined, and he would do anything to get a second chance. But when his chance comes and he is somehow back in 7th grade, he decides he is going to make it right this time… No matter what…
This book was AWESOME! I loved the humor, the story line and especially the time travel!!!!! The book is very clean and perfect for young boys 8 and up! It could also be good for teen boys, and even girls! (I mean I enjoyed it!!!!)
I mean I really don't have any cons in this book. It is VERY clean, as are most of Korman's books. I totally give this book the Golden Llama seal of approval. (Like seriously read this book!!!!! It is fantastic!!!!!!!)
Over all, this book is one of my new favorites!!!!!! I loved it and can not wait to read it again!!!!!!!! Later llamaings! -The Young Llama Reader.
Pros
An amazing book for boys!
Very clean and funny!!!!
LOVE!!!
Cons
I don't have a con… That's how good this book is!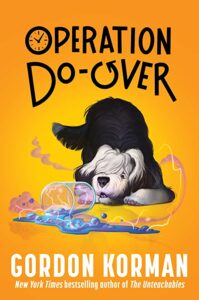 Mason and Ty were once the very best of friends, like two nerdy sides of the same coin . . . until seventh grade, when Ava Petrakis came along. Now Mason can trace everything bad in his life to that terrible fight they had over the new girl. The one thing he'd give anything for is a do-over. But that can't happen in real life—can it?
As a science kid, Mason knows do-overs are impossible, so he can't believe it when he wakes up from a freak accident and finds himself magically transported back to seventh grade. His parents aren't yet divorced and his beloved sheepdog is still alive. Best of all, he and Ty haven't had their falling-out yet.
It makes no logical sense, but Mason is determined to use this second chance to not only save his friendship (and his dog!) but do other things differently—like trying out for the football team and giving new friends a chance. There's just one person he'll be avoiding at all costs: Ava. But despite his best efforts, will he be able to stop the chain of events that made his previous life implode?
Was this post helpful?
Let us know if you liked the post. That's the only way we can improve.