Young Llama Thoughts
Adventurous

Christian Friendly

Easy Reading

Humerous

Youth Appropriate
Overall
4.8 Llamas










Summary
Hello, everyone. I'm back for another review. Ready for some more Addison Cooke? (You better be, or I have no idea why you are reading the review.) Let's get started.
I love Addison Cooke. It is such a fabulous series. Full of adventure, hilarious moments, and awesome adventures. The story picks up from book two. Addison and his sister, Molly, are staying with a family member they didn't even know they had. Their Uncle and Aunt are gone, their parents are gone, they only have the one relative who is holding secrets from them about their family. Addison and Molly want answers, but when they started looking for some, trouble comes afoot.
The third book of Addison Cooke was incredible. So much fun to read. The team is sent on a wild adventure, being chased by treasure hunters that are after their family. It is really exciting. There's some prophecy that the kids have to solve. There's a mystery on a treasure. This book is so much fun. I honestly don't have any cons on it. The only one that I could consider a con is that people are after the characters' family and are out to kill them. (But that's a part of the story line, people. You need it for the book to be adventurous.)
Overall, an amazing book and a definite must read. If your kids like adventure, treasure hunts, mystery, and hilarious characters, this is the book you want. And I absolutely suggest the previous books of Addison Cooke. You kind of want to read them to understand the story anyway. Each of them take you on a wild adventure. I can't wait for the next book. It is a perfect story for all ages, especially for young boys who want to read something fun. And now that you're done reading this review, go buy Addison Cooke. You won't be disappointment. Hope you liked my review.
– The Tiger Reader
Pros
Hilarious charcters
Awesome story
Thrilling adventure
Perfect for boys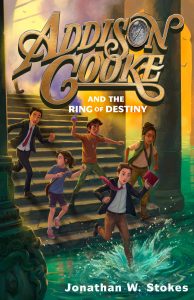 Soon after the disappearance of his aunt Delia and uncle Nigel outside the tomb of notorious Mongolian leader Genghis Khan, amateur archeologist Addison Cooke, his sister Molly, and their best friends Raj and Eddie, embark on another globe-trotting adventure.
When a mysterious package arrives on Addison's doorstep, criminals and fortune-hunters from around the world are suddenly hunting the Cooke family. Addison and team will travel to London, Paris, Istanbul, and beyond, on the run for their lives to unravel the mystery of the package, find out what really happened to Aunt Delia and Uncle Nigel, and come face-to-face with the terrifying Vrolock Malazar. But Addison and the team find there are dangerous secrets about his aunt and uncle's pasts and hidden truths about the Cooke clan that must be uncovered.
Was this post helpful?
Let us know if you liked the post. That's the only way we can improve.