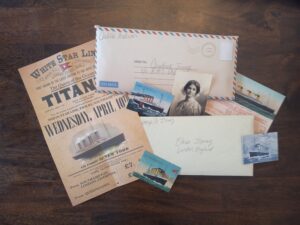 Let me tell you, there is nothing like opening the mailbox and receiving one of The Lost in Time Letters!!! C. D. Ross has written an amazing letter subscription series and it is amazing!!!! I have never heard of a letter subscription, but I love it.
This is the 6th letter, and in it I got a letter from Cordy to Chad, and a letter from Aubrey to Ethan. Plus a poster, postcard, and 3 little cutouts of the Titanic. And a photo of Aubrey for Ethan to keep. (Which is just plain adorable! Oh and I am sooo using the cute adorable cutouts as bookmarks! Perfect size!!!) Let me tell you, these letters come with the coolest knick knacks. I don't know where Ms. Ross gets them but I LOVE them!
In the letters, Cordy is writing to Chad about how she loved their time together and she hopes they can see each other soon. She mentions of how she sister is smitten with Ethan, and how Aubrey is the baby of the family and she sometimes needs to spread her wings and live her own life. Cordy talks about the rail road strikes and how it effects so many families who have lost their loved ones. One of my favorite parts is how Cordy talks about how much her mother loved the flowers Chad gave her. I thought that was just too cute!!!! She went on to ask about the lifeboats on the Titanic and if they had enough for all the passengers. (Which I was like, "Noooo!!!! It's too soon!!!!")
Anyways, along with this letter you get Aubrey's to Ethan. In hers, she talks about how her sister and his brother are made for each other and she can't wait to see them married. She mentions that he will make an amazing Doctor and will no doubt save many lives. And she also thanks him for the candy from letter 5. (Which was delicious by the way!)
Over all, these letters are sooooo interesting. (It's like being in a mystery movie!) I totally suggest getting this subscription and I hope you all have a great day! -The Young Llama Reader.
Was this post helpful?
Let us know if you liked the post. That's the only way we can improve.