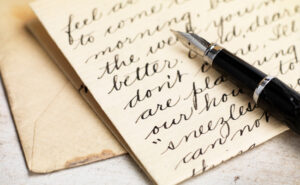 AHHH!!!! Ok, fun fact about me, I LOVE the mail. I love getting packages, letters; I love getting the mail even when there isn't anything in it for me! So this subscription that Ms. Ross has started up is AWESOME!!!!!! I just got my 2nd letter in the mail, and loved it!
This subscription is $20 a month for 2 letters and you get them for an entire year. (Or make one time payment $200) And it is awesome!!! You basically get to read a historical fiction set of love letters. They come with fun photos, a fact sheet and more!!!! I am reading the historical letters set around the Titanic time. The letters are between Charles and Cordelia and are VERY sweet to read!!!!! (I for real feel like I'm part of one of those movies where the main character finds old love letters and gets to go on the journey with the couple!!!!!!)
Over all, THIS IS AWESOME!!!!!!!!!!!!! I love this idea, I love the letters and the story and I TOTALLY suggest this!!! If you love mail, reading historical fiction, and love getting super unique subscriptions with all sorts of fun goodies, this is a must have for you!!!!!!! Have a absolutely, fabulous day. -The Young Llama Reader.
Was this post helpful?
Let us know if you liked the post. That's the only way we can improve.