Young Llama Thoughts
Adventurous

Christian Friendly

Easy Reading

Humerous

Youth Appropriate
Overall
3.4 Llamas










Review
Ok, this book was sent to me by Baker Book House but I wasn't expecting such a suspenseful book with so many twists and turns I felt like I was in a maze. And now I need more!!!!!
This book is about a neurosurgeon in Briton who is the very best, but he also is a bit of a grump, workaholic and dislikes people in general. After he insults yet another colleague he is sent on a mandatory leave to Hawaii to cool off. But when he arrives is finds a body outside his hotel, and after failing to save them he is determined to catch the killer. Teaming up with the detective who has come back to her home town, but isn't that thrilled with the way things are run. Will this unlikely pair find out whats really going on?
Ok, this book was awesome! To be honest I have read a lot of cheesy hallmark-like books lately and this was a breathe of fresh air. The romance felt realistic, the action was amazing and the mystery just kept getting better.
There is violence though! The 1st chapter is a brain surgery that I almost couldn't read… And people get shot, drown, die and more. But nothing is too described. (But it is there so prepare for blood!)
Over all, I loved this book and very much suggest it to 16 and up boys and girls who love a good adventure! Have a great day! -The Young Llama Reader.
Pros
A amazing mystery perfect for those who love twists and suspense!
Very clean and good for guys and girls!
Cons
Violence and mention of blood and such…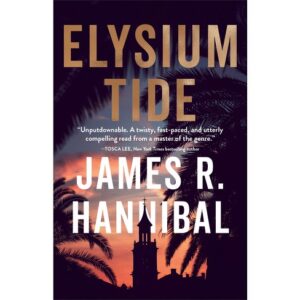 Dr. Peter Chesterfield is one of the Royal London Hospital's top neurosurgeons. He is also a workaholic, ordered by his boss to take a week off to attend a medical symposium at the luxurious Elysium Grand on the island of Maui. While there, Peter pulls a woman with a skull fracture from the water. Though he is able to revive her in the ambulance, she eventually dies in his arms, leaving him with only one clue to what happened to her: the word "honu."
Increasingly obsessed with discovering the cause of his patient's death, Peter becomes entangled in an ongoing investigation of a brazen luxury auto theft. He also becomes a source of deep irritation to detective Lisa Kealoha, who has jurisdiction over the case.
But when the two join forces, they begin to uncover a destructive plot that runs far deeper than either of them could have imagined. And if they're not careful, they're both going to end up dead.
Award-winning author James R. Hannibal whisks you away to the deadly beauty of Hawaii for a story of greed, violence, and justice that will leave you breathless.
Was this post helpful?
Let us know if you liked the post. That's the only way we can improve.