Young Llama Thoughts
Adventurous

Christian Friendly

Easy Reading

Humerous

Youth Appropriate
Overall
4.2 Llamas










Review
This book was given to me by Baker Book House and Wow. This book was AMAZING! The action, adventure, mysteries and history are sooooo well written I could not put it down! (I even had to stop and go look up some of the Fabergé eggs and the author described them perfectly!)
This book is about the history of the House of Fabergé and the mysteries eggs that they made for the Romanov family. Jumping back and worth between the life of Peter Karl Fabergé in 1906 and a young women who's father is a treasure hunter in modern times, you slowly fall in love with this enchanting story. With all the war going on in Fabergé's time and the adventure surrounding Ava's hunt for the long lost Fabergé egg… Will both stories have a happy ending?
Ok, this story was just plain amazing!!!!! The mystery keeps you glued to your seat till the very end and even then you just want more! There is so much adventure in this book I felt like I was watching a movie, and I was not disappointed.
There is some violence in the book. There is mention of war, bodies in the street, guns being shot, people injured and dying. But it isn't gruesomely described.
Over all, a must read for any lover of adventure and treasure! I totally suggest this books to 16 and up! And I am totally looking for more by this author!!!!! Have a great day! -The Young Llama Reader.
Pros
An amazing treasure hunting book!
Perfect for women looking for an adventure!!!
Christian-friendly and very clean!
Cons
Mention of violence and war.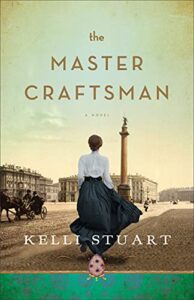 In 1917, Alma Pihl, a master craftsman in the House of Fabergé, was charged to protect one of the greatest secrets in Russian history–an unknown Fabergé Egg that Peter Karl Fabergé secretly created to honor his divided allegiance to both the people of Russia and the Imperial tsar's family. When Alma and her husband escaped Russia for their native Finland in 1921, she took the secret with her, guarding her past connection to the Romanov family.
Three generations later, world-renowned treasure hunter Nick Laine is sick and fears the secret of the missing egg will die with him. With time running out, he entrusts the mission of retrieving the egg to his estranged daughter, Ava, who has little idea of the dangers she is about to face. As the stakes are raised, Ava is forced to declare her own allegiance–and the consequences are greater than she could have imagined.
This modern-day treasure hunt from award-winning author Kelli Stuart transports you into the opulent and treacherous world of the Russian Revolution to unearth mysteries long buried.
Was this post helpful?
Let us know if you liked the post. That's the only way we can improve.