Young Llama Thoughts
Adventurous

Christian Friendly

Easy Reading

Humerous

Youth Appropriate
Overall
4 Llamas










Review
So, I went on a wonderful vacation, visited a few bookstores and found this beautiful book series perfect for ladies looking for a cozy mystery!
This book is about a women, recently divorced who is trying to move on with her life by moving on with her crocheting career! Kate Stevens is looking to publish her own crochet design books but after arguing with her publisher she returns to find him dead, and she is the main suspect who saw him last. With a murderer on the loose, a new town to adjust too, and a handsome detective asking her out, will Kate be able to solve the case? Or will someone get to her before she even starts?…
This book was awesome. It was funny, interesting and soooo well written! I thought it was a little fast paced, the chapters flew by a bit quicker than usual but the book was still very interesting. The romance was cute, the suspense was interesting and the crocheting was mentioned a lot. (I am not a crocheter. I knit scarfs. That's it.) There is a murder, so there will be violence. Mention of people dying and threats being made.
Over all, this series is fantastic, I loved it and will be getting the rest of the books! I suggest this series to young women 16 and up. Have a great day! -The Young Llama Reader.
Pros
Suspense, action and a little bit of romance!
A great series for young women!!!
Christian-friendly!!!!!!!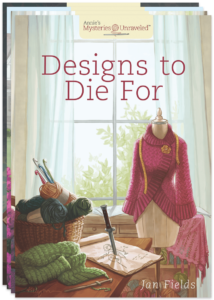 Annie's Mysteries Unraveled books are written with you in mind and available exclusively from Annie's. You'll savor all of the satisfying, suspenseful storylines, meaningful clues and fulfilling conclusions inside each intriguing Annie's Mysteries Unraveled novel.
Kate Stevens thought the bright, cozy community of Sage Hills, Texas, was the perfect place for a fresh start to her new life, until a shocking discovery cloaked in blood and intrigue has her pegged as the main suspect.
Was this post helpful?
Let us know if you liked the post. That's the only way we can improve.