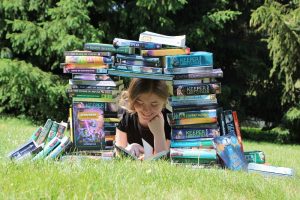 Hola my Llamaings! Sorry I haven't been reviewing a lot these past 2 weeks. I have been busy/lazy and I apologize greatly! But I was re-reading a LOT, and I thought I'd share the books that have made my week!
I re-read the Keeper of the Lost Cities (again) while waiting for book 9. Parked, which is such a good book for kids! The Wilderlore series, still love it. And my sister's new books from the Four Kingdom series. And I just read the Insignificant Events in the Life of a Cactus. Yeah… I pretty much read every genre…
But I have 3 new Baker Book House books to read! (1 more on it's way) and some books from the library that might be promising to there is hope! See you all next week!!!!!! -The Young Llama Reader.
Was this post helpful?
Let us know if you liked the post. That's the only way we can improve.