Young Llama Thoughts
Adventurous

Christian Friendly

Easy Reading

Humerous

Youth Appropriate
Overall
4.5 Llamas










Review
Ok, these books are awesome! I read the first book and loved it, and the 2nd one was even better. There is so much mystery, adventure and action in these short stories that are perfect for kids 8 and up.
Now that Millie Maven has earned her place at FIGS she is excited to explore the mysterious school. But she doesn't have a gift like all the other students; and though the Great Teacher gave her his red medallion she still feels left out. And then her class is tasked to go through the treacherous Shadowlands to retrieve the Golden Vial… as a team. Will she be able to get over her fears and team up with her enemies to succeed?
This series is just soooo good! There is so much action, adventure and mystery to keep you reading till the end! And the way the authors wrote the book to reflect God's love in a simple story line is amazing!
However… This book is a bit more violent than the normal kids book. The adventure these kids go on are exciting. There is a small mention of blood and violence but it isn't gory, just they get a cut and it bleeds. But there is some mention of a weird substance that makes the kids feel love for a brief while before they have to find more. It's called "Worm Sludge" and is kind-of like a drug or temptation that the kids have-to over come. (Which in my opinion is a genius way to explain drugs to kids, and to scare them away for the substance.)
Over all, this is a series that I love and suggest to any kid who is looking for a Christian allegory adventure! Have a great day! -The Young Llama Reader.
Pros
An amazing adventure perfect for Christians!
Clean, interesting and fun to read!
Cons
Violence and mention of blood…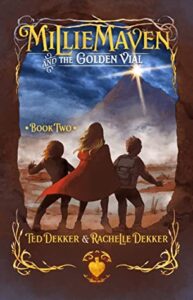 The quest continues as Millie must cross the Shadowlands to retrieve the Golden Vial. Faced with a dangerous fog that seems to change people, a ticking clock, and the voice of Millie's deepest fears calling to her, can she still manage to hear the voice of truth? Can she unite them all through love, or will she get lost in the fog and lose everything?
Was this post helpful?
Let us know if you liked the post. That's the only way we can improve.