Young Llama Thoughts
Adventurous

Christian Friendly

Easy Reading

Humerous

Youth Appropriate
Overall
4.1 Llamas










Review
So, as most of you know, I have a love for sport books. I don't know why but they are some of my fav books to read! But, I've never read a hockey book so it felt like it was time… And I loved it!!!
The book is about a boy who loves hockey, his dad, and his Doberman Sinbad. But then Sinbad gets cancer, and he has to decide whats more important. His best friend, or the one thing that makes him special.
Throughout this book you get to see a boy make decisions that influence his hockey career and his best friend Sinbad. There's so much responsibility placed on this kid and he takes it so well. You get to read how he goes through trial after trial, but he never backs down. This book is fantastic for young boys!
However, no book is perfect. There is some cussing in this book. "Frick" shows up way to many times to count and is just plain weird. And lots of mention of cancer that makes you want to cry a bit. Plus some light violence; it is hockey after all. But! There is a Christian kid in this book too! He is on the hockey team and it is sooooo cool to read! There's mention of praying, going to church and reaching out to others. It is just such a cool thing to read about in a non-Christian book!
Over all, this is a book I suggest to any boy who's loves to read sports! And I also suggest this book to any girls like me who want a new and interesting read!!!!! Have a great day! -The Young Llama Reader.
Pros
A great book for boys about responsibility.
Very clean and fun to read!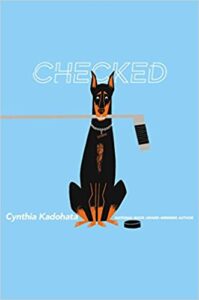 From Newbery Medalist Cynthia Kadohata comes a brilliantly-realized novel about a hockey player who must discover who he is without the sport that defines him.
Hockey is Conor's life. His whole life. He'll say it himself, he's a hockey beast. It's his dad's whole life too—and Conor is sure that's why his stepmom, Jenny, left. There are very few things Conor and his dad love more than the game, and one of those things is their Doberman, Sinbad. When Sinbad is diagnosed with cancer, Conor chooses to put his hockey lessons and practices on hold so they can pay for Sinbad's chemotherapy.
But without hockey to distract him, Conor begins to notice more. Like his dad's crying bouts, and his friend's difficult family life. And then Conor notices one more thing: Without hockey, the one thing that makes him feel special, is he really special at all?
Was this post helpful?
Let us know if you liked the post. That's the only way we can improve.