Young Llama Thoughts
Adventurous

Christian Friendly

Easy Reading

Humerous

Youth Appropriate
Overall
4.5 Llamas










Review
I have seen the movie of the Tale of Despereaux hundreds of times. But I have only read the book once. And I wasn't even the one reading, I think my 4th grade teacher read it to us, and that was like almost 10 years ago! So I read it again, and it was soooo good!
This book is about a mouse. But not your ordinary mouse, this mouse isn't afraid, he doesn't scurry and he is in love with the light. This is also the story of a princess, lost in her own palace looking for her hero to come save her from her grief. This is also the story of a rat, who also loved the light, but wasn't welcomed to it and now is seeking his revenge. And lastly this is the story of a girl, a girl who doesn't think very well, but has one wish and will do anything to get it. This is their story…
Ok, this book was actually really good. I loved the way it was written, the plot line, the characters and it was quite different from the movie! Despereaux still has terrible parents but their even worse, he stills travels up to the palace and meets the princess but it's a bit changed. And lets just say the rat doesn't really meet Despereaux like in the movie. The princess and servant girls story is also changed. It shows more of the grief that the movie overlooks and I quite like it more. And the rats tale is very different and also one I like changed. The book is a bit different and I really like both versions quite a bit. (I might need to go watch the movie again)
There is some violence in the book, but it is very light and not described. I will try to keep it spoiler free, but tails get chopped off, mice bones are seen, there is mention blood just a few time, and some rats talk about eating mice… I think that is it… (Told you, very light violence. A kid could totally read this book and not get freaked out)
Over all, this book is one I totally suggest to kids who want an adventure and families who are looking for a classic to read together! Great book, great movie, I love them book and totally suggest! Later Llamas! -The Young Llama Reader.
Pros
A very clean interesting read for kids!
Super easy to read!
Perfect for kids and families!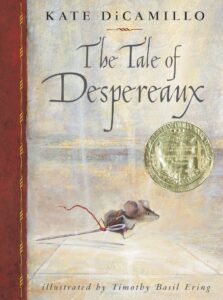 Welcome to the story of Despereaux Tilling, a mouse who is in love with music, stories, and a princess named Pea. It is also the story of a rat called Roscuro, who lives in the darkness and covets a world filled with light. And it is the story of Miggery Sow, a slow-witted serving girl who harbors a simple, impossible wish. These three characters are about to embark on a journey that will lead them down into a horrible dungeon, up into a glittering castle, and, ultimately, into each other's lives. And what happens then? As Kate DiCamillo would say: Reader, it is your destiny to find out.
From the master storyteller who brought us Because of Winn-Dixie comes another classic, a fairy tale full of quirky, unforgettable characters, featuring twenty-four stunning black-and-white illustrations by Timothy Basil Ering, in an elegant design that pays tribute to the best in classic children's books and bookmaking traditions.
Was this post helpful?
Let us know if you liked the post. That's the only way we can improve.