Young Llama Thoughts
Adventurous

Christian Friendly

Easy Reading

Humerous

Youth Appropriate
Overall
4.5 Llamas










Review
"Oh Fancy Nancy how I've missed you!" My dear Llama Friends, this was my childhood. This series is what gave me my love for fashion(ish), the French and Pizza! This is what I was read when I was just a wee Llama.
Fancy Nancy is a picture book series about a girl named Nancy who loves being Fancy! There are soooooooooo many books, and they are perfect for little girls! (This is how I learned to read!) And there are also 1st level reading books for that little girl to love! (And dolls, tutus, a Tv show, and plushies!) Fancy Nancy was one of my favorite books growing up. Each book teaching you about love, kindness, friendship and family… And looking Fabulous while doing it!!!
Over all, a must have for any little girl! And a great series for her to begin reading too. Have a happy 17 days till Christmas! -The Young Llama Reader.
Pros
A great book for little girls!
Very cute, funny and easy to read!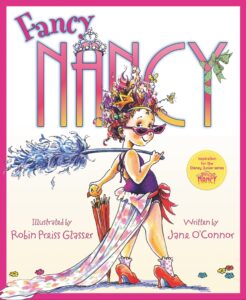 The bestselling picture book that launched the beloved Fancy Nancy series by the dazzling duo Jane O'Connor and Robin Preiss Glasser!
Meet Nancy, who believes that more is ALWAYS better when it comes to being fancy. She loves to wear fancy clothes, play with fancy toys, and most of all, use fancy words! But everyone in her family is just the opposite. From the top of her tiara down to her sparkly studded shoes, Nancy is determined to teach her family a thing or two about being fancy.
How Nancy transforms her parents and little sister for one enchanted evening makes for a story that is funny and warm—with or without the frills. This heartwarming story emphasizes the importance of family and the power of self-expression.
Perfect for fans of the Eloise and Olivia books.
Was this post helpful?
Let us know if you liked the post. That's the only way we can improve.