Young Llama Thoughts
Adventurous

Christian Friendly

Easy Reading

Humerous

Youth Appropriate
Overall
4.7 Llamas










Review
AHHHH!!! I love the Princess Bride. The movie is a classic, and the book is amazing as well! (I actually didn't know there was a book… and now I am horrified at myself for not knowing…)
The Princess Bride is a story about adventure, revenge, torture, daring sword fights and true love! The movie and book are both clean, and I very much suggest this action packed set to kids and teens!
The book was actually not written by Goldman. He rewrote it and made it into a movie. So throughout the book are little paragraphs that explain what he took out of he book, why he did it, or how his father told it to him. (I thought these were very cute, but they do draw away from the story a bit.) But the book is super fun to read! Everything from the kidnapping, to the sword fights, to the torture. (But there is some light torture that is nit in the movie.)
Over all, this is a book I TOTALLY suggest for a family read!!!! Sit back, watch the movie and read the book! -The Young Llama Reader.
Pros
AMAZING fight scenes!!!
Daring adventures!!!
A perfect read for the family!!!!!!!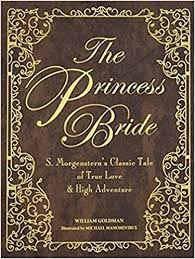 Here William Goldman's beloved story of Buttercup, Westley, and their fellow adventurers finally receives a beautiful illustrated treatment.
A tale of true love and high adventure, pirates, princesses, giants, miracles, fencing, and a frightening assortment of wild beasts—The Princess Bride is a modern storytelling classic.
As Florin and Guilder teeter on the verge of war, the reluctant Princess Buttercup is devastated by the loss of her true love, kidnapped by a mercenary and his henchman, rescued by a pirate, forced to marry Prince Humperdinck, and rescued once again by the very crew who absconded with her in the first place. In the course of this dazzling adventure, she'll meet Vizzini—the criminal philosopher who'll do anything for a bag of gold; Fezzik—the gentle giant; Inigo—the Spaniard whose steel thirsts for revenge; and Count Rugen—the evil mastermind behind it all. Foiling all their plans and jumping into their stories is Westley, Princess Buttercup's one true love and a very good friend of a very dangerous pirate.
Was this post helpful?
Let us know if you liked the post. That's the only way we can improve.