Young Llama Thoughts
Adventurous

Christian Friendly

Easy Reading

Humerous

Youth Appropriate
Overall
3.9 Llamas










Review
YAYYYYYYY!!!!!! I finally got The Out of Time book 3!!!!!!!!!! I have been waiting to get this book forever!!!!!! I LOVE A Time to Die and A Time to Speak, so I ADORED A Time to Rise!!!!!!!!
This book is the 3rd book in the Out of Time series. And it is after Parvin is dead… At least that's what the council believes. When God wakes her from death, she is ready to rise up and tear down the walls and clocks that the council has put in place. But the danger is much more than what she thought. And she's not certain if she can complete the task given by God. But she will Rise anyways.
AHHH! Love, ok I love this book! There is action adventure, danger, and romance! However, there is a TON of violence… And I mean a lot… The Out of Time series is basically a survival series. There are guns, knifes, some torture, limbs getting.. cut off… Child abuse, bombs and a whole lot of death. But it is all clean death. (If that's a thing…) And even though there is violence it is no where close to Alex Rider violence! (Thank goodness!!!) It isn't that described, but it is there. But so is God. (Ahem!!!)
Over all, READ IT!!! I love this book!!! And I am soooo excited to have the complete series now!!!!!!!!! I will say that this is a teens series! 12 and up. But other than that… A must read!!!!! -The Young Llama Reader.
Pros
AWESOMENESS!!!!
An amazing adventure!!!
Great for teens!!!!
Cons
Lots of survival violence…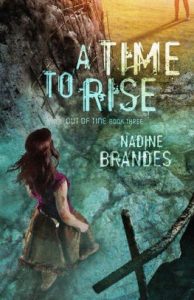 What more can you sacrifice than your life?
Parvin Blackwater is dead.
At least that's what the Council-and the world-thinks. But her sacrifice tore down part of the Wall long enough to stir up hope and rebellion in the people. Now she will rise again. Strong, free, and fearless.
Parvin and Solomon must uncover the mysterious clues that Jude left behind in order to destroy the projected Wall once and for all. Meanwhile, the Council schemes to new levels of technology in its attempts to keep the people contained. Can a one-handed Radical and a scarred ex-Enforcer really bring shalom to the world?
Was this post helpful?
Let us know if you liked the post. That's the only way we can improve.